Jungle Scout Professional Discount Code And Coupon [60% OFF]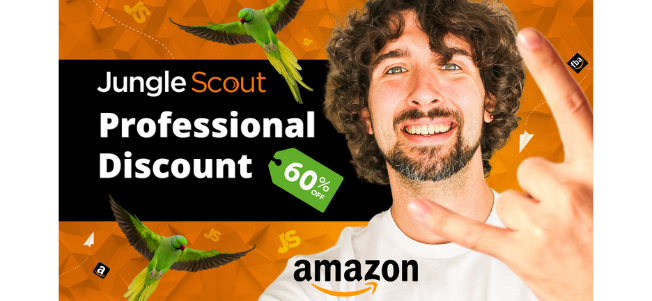 Disclosure: Hi! It's Vova :) Some of the links in this article may be affiliate links. I get a commission if you purchase after clicking on the link, this does not cost you more money, and many times I can even get a nice discount for you. This helps me keep the content free forever. For you. Thank you! :) 
Jungle Scout Professional Coupon Code - How to Get a 60% Discount?
Hi, my name is Vova Even, and I have been an active Amazon seller since 2016. I also share tutorials, hacks, and trade secrets on YouTube and Udemy. Here I am with a brand new review of my recent video on Jungle Scout Professional Discount & Coupon Code.

All the best discounts, promo codes, and promotions for Jungle Scout Professional are here:

Best Jungle Scout Professional Discounts

You can watch the video that I've mentioned here:


Plus, here are some additional goodies I love to share with my followers every now and then:

If you're new to the industry, Jungle Scout is one of the most affordable tools for finding, launching, and selling products on Amazon. It offers three distinct pricing tiers, including Basic, Suite, and Professional. However, not all of them are economically viable for everyone.


I'm here to make it easy for you to purchase any plan that fits your needs under the budget you dream of. I've already shared several discount offers for the Basic and Suite plan in my previous review. If you haven't checked that blog, click here.


This time, I'd like to share an exclusive coupon code for the Jungle Scout Professional plan that will save you a whopping 60% on its annual subscription. To get it now, click on this link, and it will take you to a unique landing page of the Jungle Scout's official website.


Now, let me explain exactly what you'll save from it. Generally, if you choose to be billed monthly, the cost of Jungle Scout Professional is $129 per month, which becomes almost $1,548 a year. That's pricey, isn't it? Jungle Scout also gets that.


Hence, if you choose to pay annually, it offers you a discount of 585 bucks. That means, you just need to avail a one-time upfront subscription of $999, which equates to about $84 per month. It's a good bargain, but I'm sure there's more money to be saved, and that's where my one-of-a-kind discount code comes in handy!


If you use the Special Jungle Sale link I've provided, it leads you to a landing page where you can get the Jungle Scout Professional plan for just $649 per year. Thus, instead of shelling out $1,548 or even $999, you can get it for 649 dollars only.


Note that this promotion is active for a limited time, but even if you happen to land on the page a year from now, be assured that I'll bring you the maximum benefits I can.


There are many other videos on my YouTube channel with step-by-step and in-depth tutorials of Jungle Scout, check this playlist right here. It will help you use your new investment more efficiently. Enjoy!
Wishing you a great day.
Yours,
Vova :)
Disclosure:  Hi! It's Vova :) Some of the links in this article may be affiliate links. I get a commission if you purchase after clicking on the link, this does not cost you more money, and many times I can even get a nice discount for you. This helps me keep the content free forever. For you. Thank you! :)