Sellerboard Discount Code: Set Yourself Up For Success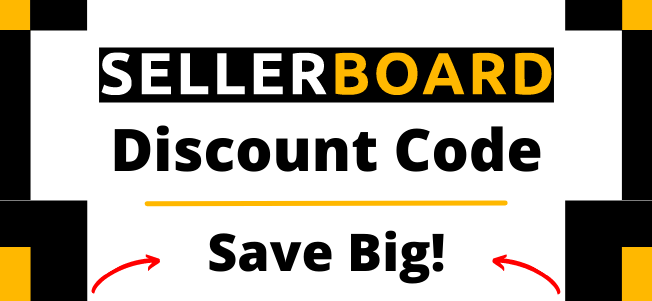 Table of Contents
Use this Sellerboard Discount Code to Save Big on Amazon Profit Tracking

What is Sellerboard?

Benefits of Using Sellerboard for Amazon

How Does Sellerboard for Amazon Work?

Using the Sellerboard Discount Code
Disclosure: Hi! It's Vova :) Some of the links in this article may be affiliate links. I get a commission if you purchase after clicking on the link, this does not cost you more money, and many times I can even get a nice discount for you. This helps me keep the content free forever. For you. Thank you! :) 
Use this Sellerboard Discount Code to Save Big on Amazon Profit Tracking
Now more than ever, sellers are looking for ways to compete on Amazon while keeping costs low. Sellerboard is a profit analytic tool that helps us with this. I'll help you save big on Sellerboard!
But before we get into details, here are some freebies and additional resources for you to grow as an Amazon FBA seller:
Now, being an Amazon seller can feel like you are out at sea, trying to navigate the waters while keeping your fingers crossed that you don't run into any icebergs.
When you're starting as a seller, the last thing you need is to shell out all this money for new tools and resources. But you need something to help you compete. You need the right tools, so you must act now to get ahead by using our Sellerboard discount code (you get 2 months of FREE usage!). Enjoy your free trial and account on Sellerboard!
What is Sellerboard?
Sellerboard is an Amazon software for profit tracking (and much more). It helps Amazon sellers succeed by assisting them with accurate profit analytics.
Through algorithms, Sellerboard helps sellers manage their inventory, recover lost sales, prevent future losses, grow profit with PPC management, and more.
For a step-by-step Sellerboard review and tutorial, please watch my YouTube video below, or read the blog post previously linked.
With Jenny Adams from Sellerboard. We cover all the tools there.
Benefits of Using Sellerboard for Amazon
The most significant benefit to using a tool like Sellerboard is that it saves you money. By getting access to tools that offer perspectives based on actual sales data, your PPC campaigns will perform more effectively, and you'll get more visibility on your inventory management (no more out-of-stocks).
You'll get a better understanding of your profits and what you actually make on Amazon.
There's also another tool, Helium 10, that can be used as an alternative to Sellerboard.
I have compared both of them head-to-head in this article: Sellerboard Vs Helium 10 Review, and also shared exclusive discounts to help you save big. Read it now to make an informed decision!
How Does Sellerboard for Amazon Work?
Sellerboard is a platform for sellers to manage and boost their Amazon business. The results are based on actual data from your Seller Central. It's not about guesses or opinions - this is a data-driven service that gives sellers critical insights into their business on Amazon.
It offers a wide range of tools to help you in nearly every aspect of your brand to increase profits, save time, and monitor key performance indicators.
Live Dashboard Monitoring
The most popular part of Sellerboard is its live dashboard. You can gain access to this feature by signing up for an account with my Sellerboard coupon code.
This is a customizable dashboard that gives sellers access to their most critical metrics from anywhere, anytime. It's fully customized to the way you do business on Amazon.
Configurable Charts
Some of the available metrics for this dashboard include inventory, sales, return rates, PPC spent, time frames, and more. You can also choose the types of charts best for you, making it more efficient to track and manage all aspects of your business.
Profit and Loss
Another popular feature of Sellerboard is its Profit and Loss (P&L) tool. This part of the board started as a simple asset management tool that has been enhanced to help Amazon sellers track their sales, inventory, and returns and give alerts for negative trends.
Product Breakdown and Expenses
Sellerboard's product breakdown is also a popular feature because it gives you insight into the details of your products. You can see how much money each product is making by setting up the cost of goods. In the expenses tab, you can input your expenses, recurring, or one-time expenses.
LTV Dashboard
This tool gives your business the ability to accurately track the customer lifetime value of each buyer by different KPIs. The results are customized to suit your business.

The video below features more info about the LTV tab, as well as the Compare tab, and Ebay and Shopify connectors.


Cashflow and Reports
The cash flow tab allows you to understand your current balance of money in your business. How much money you have on hand, what was your recent payout, what are your expenses, etc.. Get a better picture of the money situation within your business.
The reports tab allows you to download the reports your need in Excel or CSV formats. Reports for your orders, repeat customers, stock history, and many others.
Autoresponder, Money Back, and Listing Change Alerts
The autoresponder is a great way to community with your customers after purchase and even ask for reviews, all on autopilot.

Money Back allows you to get your money back for lost or damaged inventory on Amazon. A great way to get back what's yours.

And with the Alerts tab, you'll be able to get notified of any change on your listing, so you'll be able to act fast and resolve any issue.
Using the Sellerboard Discount Code
All of these tools are available to you with our Sellerboard promo code that offers you two free months of these excellent seller tools for Amazon. It's simple to use my discount! Just click on the link and create a new account on Sellerboard. Enjoy!
Truly yours,
Vova :)
P.S - want to understand which Sellerboard plan is the best for you? Then read my Sellerboard pricing review.
Table of Contents
Use this Sellerboard Discount Code to Save Big on Amazon Profit Tracking

What is Sellerboard?

Benefits of Using Sellerboard for Amazon

How Does Sellerboard for Amazon Work?

Using the Sellerboard Discount Code
Disclosure:  Hi! It's Vova :) Some of the links in this article may be affiliate links. I get a commission if you purchase after clicking on the link, this does not cost you more money, and many times I can even get a nice discount for you. This helps me keep the content free forever. For you. Thank you! :)