Strange Amazing Selling Machine Course Review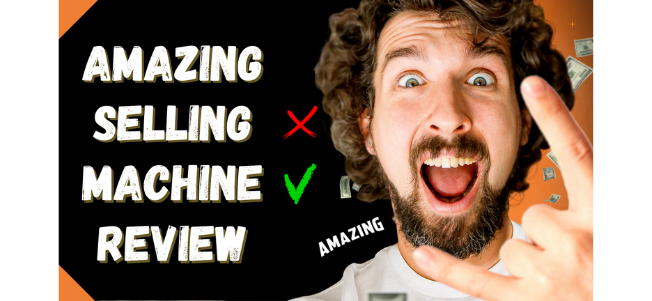 Table of Contents
The Strange Amazing Selling Machine Course Honest Review

What is the Amazing Selling Machine?

What's Included in Amazing Selling Machine?

Breakdown of Amazing Selling Machine 13

What's New in ASM 13

Week by Week Review of Amazing Selling Machine Video Course

The Bottom Line - Is It Worth It?
Disclosure: Hi! It's Vova :) Some of the links in this article may be affiliate links. I get a commission if you purchase after clicking on the link, this does not cost you more money, and many times I can even get a nice discount for you. This helps me keep the content free forever. For you. Thank you! :) 
The Strange Amazing Selling Machine Course Honest Review
All The Resources From The Article

Amazing Selling Machine Course With All The Bonuses (the top offer for ASM)

Amazing Selling Machine Foundations (the version of the ASM course without the mentorship)

Freedom Ticket Course (an alternative to the ASM course)


Freebies & Additional Resources for Amazon FBA Sellers

Let's Begin!!! So...

eCommerce is a trillion-dollar industry. Global eCommerce sales are projected to reach 6.5 trillion dollars in 2023, which is less than a year from today.

Now, we can buy almost anything online. Soon enough, we will be able to buy everything online. So, if you're sitting there and thinking about elevating your financial situation, starting an eCommerce business is not the most worse idea ever.

Surely, there are many places to try your hands on eCommerce. Simply put: Amazon is the best place to sell anything these days. Everybody buys things from Amazon. According to a study, more than 80% percent of U.S consumers check the prices of products on Amazon before buying.

With such a level of trust in the platform, it's little surprise that the eCommerce behemoth has nearly tripled its sales since 2015 and has projected revenue of almost $365 billion by this year.
Amazon has the largest reach and attention of the world's eCommerce audience. There are a lot of Amazon sellers who are killing it by selling physical products on the platform, one way or the other.
However, there are just as many who don't make it big or just fail. And there are many reasons for this…
First, there is now an unbelievable level of competition on the platform. Amazon FBA started years ago and since that time, more and more sellers have joined and perfected their craft. So, if you are just joining recently, it can be incredibly difficult to stand out from the crowd.
Secondly, it takes an enormous amount of time, effort, knowledge, and skill to be successful in selling products on Amazon. It takes a lot of steps just to get your product listed on Amazon. Imagine what it would take to sell enough to become profitable. A LOT MORE.
Doing Amazon FBA the Right Way...
If you search online, I'm sure you'd find a decent amount of free content to help you get up and running with Amazon FBA. For example, you can use my YouTube channel with over 400+ Amazon FBA videos.


But for many people, this is a scattergun approach which represents a big hassle to sift through all the information available on the internet to determine what's relevant.

For many prospective newbies and not-so-profitable sellers, it may be best to invest in a proven, workable path that you know very successful sellers have taken.


That's where Amazing Selling Machine 13 comes in…
What is the Amazing Selling Machine?
Amazing Selling Machine (ASM) is an online video course that teaches you the simple steps of how to start selling on Amazon FBA (Fulfillment By Amazon).

The course, created by Jason Katzenback and Matt Clark, co-founders of amazing.com, is for anyone serious about selling on Amazon FBA and who wants to build a sustainable business for years to come.

With no prior experience, ASM takes the hard work and uncertainties associated with starting your own eCommerce business.


Also, it helps that both Matt and Jason have extensive experience selling products on Amazon, and the techniques and skills utilized in building their own successful Amazon business are discussed in the course.

I also have a video review where I compare Amazing Selling Machine to Freedom Ticket (the Amazon FBA course by Helium 10 and Kevin King).

Watch it in the video below. Or you can read a separate Freedom Ticket review, if you wish so.


Annnnd, if you're a reading junkie, I got you covered in this article: Freedom Ticket Vs Amazing Selling Machine Honest Review.
What's Included in Amazing Selling Machine?
The Amazing Selling Machine comes in a gigantic package. The first thing that you'll notice once you purchase the course is the size of their offering. And that's not all!

Since the first release of the ASM course, over the years, the creators have been updating the course to reflect the prevalent situations about selling on Amazon as time goes on, which is always a good thing. The most up-to-date iteration of the course is Amazing Selling Machine 13 (or ASM 13 for short).

Click here to see the special offer for ASM 13
There are five major components of the Amazing Selling Machine package. I'll now go over them individually below:
1) The 9-Module Video Course ($4,997 Value)
The online video lessons form the centerpiece of the Amazing Selling Machine. The video course is over 160 lessons on everything from selecting products to working with influencers and doing PPC (pay-per-click ads).


Even if you're already raking in thousands in revenue monthly, the information and insider knowledge contained in the video course will teach you tons of new stuff. It's that good, and these folks at amazing.com know their stuff.
2) The ASM Mentorship Program ($3,497 Value)
One of the absolute highlights of the Amazing Selling Machine is the ASM Mentorship program. The Mentorship program is a brain trust of 21 highly successful Amazon sellers.

These sellers help you through building your store, giving advice on important things like product listings, marketing, and store optimization.

Furthermore, these mentors with half a century years of combined experience and tens of millions in sales are there to answer any questions and concerns you may have.


What's so good about this program is not just the wealth of knowledge you can gain from these mentors but the assurance that any advice is 100% legit and proven.

After all, we are talking about learning from top sellers here. The ASM Mentorship program is a big help, especially for those who feel like they need a helping & guiding hand.
3) The Amazing Selling Machine Private Community ($997 Value)
Let's be straightforward: whatever challenges you will come across as you begin your Amazon FBA journey, there's a 99.9% chance that some other seller has encountered them and found solutions.

Instead of cracking your brain and wasting time looking for solutions to a problem, you can just get help from someone who's been through the same obstacles and pass them. The Amazing Selling Machine Private Community makes this possible.
Suffice it to say, the private community around ASM is one of the most vibrant in the Amazon FBA world. It's one the company is very proud of and calls the "ultimate collection of brainpower".


Inside the community, it's hard for members not to be motivated to do well. A lot of the activities have been structured to reflect the competitive nature of selling on Amazon FBA. Good luck trying to earn those badges.
4) The Private Resource Vault ($1,497 Value)
The Private resources vault is the much-heralded collection of tools, software, and other resources that the founders have personally used to grow their own Amazon stores.


Every subscriber has several valuable resources in their vault, including supplier templates, product evaluation templates, contact details of services like transportation, photography, and other talents a seller may need to get their products in front of consumers.


The Amazing Selling Machine private resources vault is like owning the keys to the secrets of the founders' success.

5) The Ultimate Software Tool Suite ($2,997 Value)
The guys over at Amazing created their own software to help you hunt for winning products.

They also have other software for keyword hunting (so you can rank in more places on Amazon and get more sales) and also a product launch tool (to help you rank high for those keywords).

The total value of the Amazing Selling Machine is $13,985!
Breakdown of Amazing Selling Machine 13
The latest version of Amazing Selling Machine is ASM 13. This practice of Matt Clark and Jason Katzenback to constantly update the course to reflect the latest practices and knowledge must be emphasized. Technology moves fast, so as soon as you're reading about a skill or tool, something new is out, and all the rave again!
Make no mistake: ASM 13 is a major upgrade over the previous Amazing Selling Machine. The creators have analyzed the major issues and problems of the previous versions and came up with new solutions, tools, tips, and extra resources to solve them.
What's New in ASM 13
The following are the highlights features included in ASM13 over the previous versions of Amazing Selling Machine.
Brand New Product Selection Method
It always helps to know how to find products that are not saturated but still bring in sales, even for complete beginners. This special method will be uncovered!
Four New Powerful Software Tools That Save You Money & Time
Here you'll get an exclusive product opportunity tool, product analyzer tool, the perfect keyword tool, and rapid product launch tool. The combination of all the tools above grants you a strong competitive advantage on Amazon.
You get free lifetime access to every new version of the course.
Week by Week Review of Amazing Selling Machine Video Course
Welcome Module
To kick things off, Jason and Matt introduce you to the course and what to expect. Even if you're tempted to, DON'T SKIP this module. Here you'll learn about things like the ASM dashboard, community, mentor program, mindset, and private resource vault.
Module One: Building Your Hot Opportunity List
The key to smashing it on Amazon lies largely in your ability to find profitable products to sell. This is exactly what this module is all about. It teaches you how to find highly profitable products, which categories to explore, and which to avoid like the plague.
Module Two: Evaluating Suppliers and Samples
How do you source products to sell on Amazon? This module contains proven evaluation methods to apply to prospective suppliers as well as products. You're equipped with contract templates, as well as how to calculate profit margins and lots more. You'll also learn how to get the best samples of your products.
Module Three: Ordering Your Inventory and Creating Your Brand
This module teaches you all you need to know when it comes to creating your brand, finding reliable suppliers, and getting the best prices from them as well.

Finally, you learn about branding and how to create an optimized listing on Amazon to get approval.
Module Four: Building Your Brand Assets
What do you need to do before your big opening? This module is all about getting ready for your product launch on Amazon. This module is full of expert branding tips focusing on setting up social media accounts and creating your online presence.

You also learn how to build a subscriber list and generate product reviews on autopilot. More reviews help you gain trust and get more sales.
My Related Blog Post: Honest Freedom Builder Bootcamp vs Amazing Selling Machine Course Review
Module Five: The Perfect Product Page
Many rookie's Amazon listings are usually not up to acceptable standards. This module is an eye-opener, especially if you're a beginner. As for advanced sellers, they won't want to miss a beat here because even minor tweaks can improve conversion rates by a few extra points.

You'll be taught SEO and how to craft perfect titles, write product descriptions, and use bullet points like a pro. There are also lectures on emails, product images, and pricing.
Module Six: The Perfect Product Launch
It's a fact that the pros don't just launch. They do it the right way, which can make all the difference in their sales margin.

The module takes you step-by-step through launching your product perfectly. You learn about launch objectives, planning, using data to optimize your launch process, configuring PPC campaigns, generating reviews, and pricing plans.
Module Seven: Optimizing And Scaling PPC
In this module, you'll learn all you need to know about PPC (pay-per-click) ads on Amazon. You'll understand how you can rank your product with PPC, how to optimize it, and how to read all the data that you get from your PPC campaigns.

A very important module. PPC is the most "white-hat" method to get sales and rankings on Amazon.
Module Eight: Scaling Your Sales On Amazon
This module helps you grow your Amazon store to higher levels. With more sales on Amazon come new challenges and problems. Discover how to be prepared for them, how to actually get to those higher levels, and how to stay on top of your game. Grow! Grow! Grow!

Module Nine: Advanced Marketing And Traffic Strategies
Market like crazy. In this module, you'll discover secret tactics to get more customers via; Facebook, YouTube, Google, and Instagram. You'll also learn how to work with influencers to grow your brand. Finally, you'll learn how to build a team that will help you run your Amazon business.
Amazing Selling Machine Cost & Pricing
Amazing Selling Machine is one of the most popular and widely used Amazon FBA training courses. But it's also one of the most expensive.

Amazing Selling Machine 13 is available at an upfront cost of $4,997. Or you can pay for the course in six installments of $997.
There's a 30-day money-back guarantee and a six months success guarantee.

So click here to learn more about Amazing Selling Machine 13!

The Bottom Line - Is It Worth It?
Honestly... It's up to you. If you are a person that loves doing it on his or her own, without mentors or a community, probably the regular version of ASM won't be worth it for you.

In this case, there's a cheaper version of the course (only $997). It's called Amazing Selling Machine Foundations. Learn more about ASM Foundations by clicking on the link right here.

Both of the courses carry solid information that will help you start your Amazon FBA business. No magic, though... You'll still have to do a lot of work and create a real brand of products on Amazon. I've been doing that since late 2016, and I really, really love it.

To be 100% real with you, it's not easy, and it's not for everyone. If you are lazy, not committed, not willing to commit, and you tend to quit each thing you start... Then probably... It's not for you...

If you are committed and passionate about changing your life, achieving freedom, and creating a business that you can run from any place in the world.. Then it probably is for you!




Oh, and if the price is too high for your anyway... Then read my review of the Freedom Ticket (by Helium 10 and Kevin King). It's also an A-Z course for those who are interested in selling on Amazon.

Read my post about what is Freedom Ticket here.

All the best to you :)
Vova :)
Table of Contents
The Strange Amazing Selling Machine Course Honest Review

What is the Amazing Selling Machine?

What's Included in Amazing Selling Machine?

Breakdown of Amazing Selling Machine 13

What's New in ASM 13

Week by Week Review of Amazing Selling Machine Video Course

The Bottom Line - Is It Worth It?
Disclosure:  Hi! It's Vova :) Some of the links in this article may be affiliate links. I get a commission if you purchase after clicking on the link, this does not cost you more money, and many times I can even get a nice discount for you. This helps me keep the content free forever. For you. Thank you! :)