Freedom Builder Bootcamp Vs Amazing Selling Machine Honest Review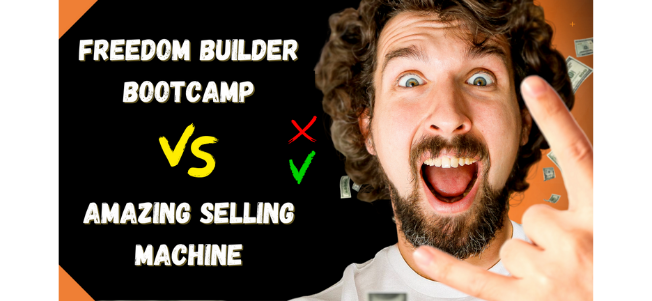 Table of Contents
Freedom Builder Bootcamp vs Amazing Selling Machine - How do They Stack Up?

First... About Amazon FBA Courses

Making Money Online Is Not Easy

Why Get into Amazon FBA?

Why Freedom Builder Bootcamp Or Amazing Selling Machine

Freedom Builder Bootcamp

Freedom Builder Bootcamp: What You'll Learn Inside

Freedom Builder Bootcamp Pricing

Major Pros of the Freedom Builder Bootcamp

Major Cons of the Freedom Builder Bootcamp

Amazing Selling Machine

Amazing Selling Machine: What You'll Learn Inside

Major Pros of Amazing Selling Machine

Major Cons of Amazing Selling Machine

Freedom Builder Bootcamp vs Amazing Selling Machine: The Verdict
Disclosure: Hi! It's Vova :) Some of the links in this article may be affiliate links. I get a commission if you purchase after clicking on the link, this does not cost you more money, and many times I can even get a nice discount for you. This helps me keep the content free forever. For you. Thank you! :) 
Freedom Builder Bootcamp vs Amazing Selling Machine - How do They Stack Up?
Hi! Thank you for visiting my blog. My name is Vova Even, and I have been an active Amazon seller since 2016. I also share tutorials, hacks, and trade secrets on my Amazon FBA blog, YouTube and Udemy. My goal is to help new, and advanced Amazon FBA sellers save more money while growing consistently.
In this detailed comparison post, you will learn the differences and distinctions between the Freedom Builder Bootcamp and the Amazing Selling Machine. If this intrigues you, keep reading. :)
All The Freedom Builder Bootcamp Vs Amazing Selling Machine Review Resources
Freebies & Additional Resources for Amazon FBA Sellers:
First... About Amazon FBA Courses

The Amazon FBA landscape is saturated with the next "Best" Amazon seller training course and how to go from the dream of making six or seven
figures of income to the reality of it.

Every course virtually claims to be the ultimate and everything you'd ever need to make millions of dollars in a few years. There are very good Amazon sellers' training courses on the web, but not all deliver on their promises. Also, most of them are of lower quality.
Making Money Online Is Not Easy
It's common for people to think online money-making opportunities are the easy way out, and Amazon is a platform where very little effort will guarantee you huge returns. Sorry to burst your bubble but the hard truth is that it takes effort, time, and probably money to be able to build an Amazon brand that is sustainable and profitable.

I'm in the trenches for over 5 years now. And it's not easy. If you want to see my results of selling on Amazon, then see the video below. I share the real profits.



It's still possible to make tons of money on the Amazon platform. But while an Amazon FBA course can show exactly the pathway the experts took to achieve success, you still need to put in just as much effort or even more to achieve the same level of results.
Why Get into Amazon FBA?
It's no secret that more and more people are shopping online nowadays than they do in brick-and-mortar stores. Online shopping is easy, safe, fast, and a very convenient way of shopping.

Besides, these days you can get nearly everything and anything you want online. With an increasingly powerful internet and technology-driven world, there's no tangible reason not to be mesmerized by the effectiveness of e-commerce.


If you're a prospective seller looking to make living selling products online, most experts would advise that you concentrate your efforts on one platform, at least in the beginning. The main reason why they tell you this is quite obvious: Amazon is the largest marketplace in the world!

By selling on Amazon, you can tap into a much larger customer base than found on any of the other e-commerce platforms, including eBay, Shopify, or Alibaba. And when you compare to some of the platforms listed above, there's a real potential to earn much better while doing less work.

As an entrepreneur, selling on Amazon is a no-brainer, at least at the beginning of your e-commerce journey.
Even in 2023, an Amazon seller's training still gives you an edge...
One of the absolutely great things about life in 2023 is that there is an enormous amount of free resources on the internet on just about anything you can imagine. Selling on Amazon is no different.

So, you may wonder, why should I shell out thousands of dollars on an expensive Amazon FBA course when you have other equally important areas you can channel that money into? There's a long and complicated answer to that question, but I'll give the simplest one: content curation (the process of gathering information relevant to a particular topic or area of interest).


Surely, there are valuable information and lessons on web pages and a place like YouTube; I even have an Amazon FBA dedicated YouTube channel with over 500 videos.

However, you'd have to manually search, collect and validate every piece of information to essentially create your own 'Amazon course'. It takes an enormous amount of time, patience, and effort to be able to curate the internet to separate what's relevant to you and what's not. This is a time you likely don't have.


Instead, leverage the experience and knowledge of experts who have already perfected the research process to arrive at a collection of relevant information that can help you grow your Amazon store from the ground up into a self-sustainable business.


Investing in an Amazon seller training course gives you the best possible chance to become successful on the increasingly competitive platform. When you take an Amazon course, you can be sure that the content you're consuming is guided and that the topics are worthy of learning about (if the course is good).


Both of the two courses I will be reviewing are from reputable people or companies and contain up-to-date information. You can be sure that both Freedom Builder Bootcamp and Amazing Selling Machine were created with your success on Amazon in mind.
Why Freedom Builder Bootcamp Or Amazing Selling Machine
Before you invest in a course, you should consider the hours and hours you will have to commit to learning from it. You should also understand if you even want to be a seller on Amazon. You also need to understand which course you need.

So, how do you make a smart choice?


You can't possibly go through every Amazon FBA course on the planet just to see which one is best for you. That's where I come in...


Before I select an Amazon course to review or compare, I make sure they are both from reputable sources or people. Specifically, I look at who created or who owns these courses. I look at their knowledge and history with the Amazon FBA business model.

Finally, I consider the level of success they have had on the Amazon platform or e-commerce in general.

Also, I obviously go through the course!

I have done the necessary due diligence and have decided to do a comparison blog between the Freedom Builder Bootcamp and the Amazing Selling Machine. I compare both courses side by side. I look at their authors, course content, plans, and pricing.


Last but not least, I have in-depth reviews of each course in separate blog posts if you'd like to take a serious look into what they offer. The links are below.

Freedom Builder Bootcamp Review On My Blog
Amazing Selling Machine Review On My Blog
Freedom Builder Bootcamp
The Freedom Builder Bootcamp was created by Greg Mercer, 8 figure Amazon seller and one of the most seasoned Amazon entrepreneurs out there. Freedom Builder Bootcamp is a solid Amazon FBA course that is incredibly packed.

This is a serious Amazon seller training course that will teach you new stuff, no matter your level of experience on the Amazon platform. However, this course is particularly beneficial to new sellers who want to start with Amazon FBA or beginners who need extra help and guidance.

New sellers can gain tremendous knowledge and insight into the world of Amazon FBA by studying the lessons Greg has put together in his boot camp course.


Certainly, the Freedom Builder Bootcamp is one of the creator's most significant achievements. However, there's even more to his bow: Greg is also the creator of the popular Amazon product research tool called Jungle Scout.

The Jungle Scout suite is now one of the most sought-after Amazon FBA tools for getting a competitive edge as an Amazon seller.

For the best Jungle Scout discounts please refer to the links below.

50% OFF Your First Month On Jungle Scout
This is a solid FBA program backed by one of the top Amazon vendors when it comes to selling private-label products on Amazon. And the fact that the Bootcamp comes with a subscription to Jungle Scout makes the deal even sweeter and the overall package irresistible.

You can read more about the special offer for the Freedom Builder Bootcamp + Jungle Scout right here. Or here. 2 options to choose from!

Also, I have an in-depth video review of the Freedom Builder Bootcamp on my YouTube channel. The first review is a short one (I recorded it after I finished it and shared my feelings as well as what's inside). I'll leave the video below.



The second review is a long 50+ minutes review where I show you exactly what's included in the course and how it helps you. It's a step-by-step walkthrough of all the modules of the course.


Freedom Builder Bootcamp: What You'll Learn Inside
The incredibly packed Freedom Builder Bootcamp by Jungle Scout CEO Greg Mercer is a solid training program any way you look at it.

It consists of 10 modules in total with some bonus sections. The course contains over 30 hours of downloadable content together with several PDF resources. The program primarily features content related to private label selling.

The contents are geared towards those entrepreneurs who are beginning their FBA venture and also seasoned sellers who are looking for advanced selling strategies.


Among other things, the Bootcamp comes with weekly live coaching sessions, an Amazon sellers action plan, Amazon listing feedback, Greg's tips, and tricks, exclusive FBA community access, and a one-year subscription to Jungle Scout Professional.


Here's a breakdown of each module:
Module 1: Getting Started And Business Setup

Module 2: Product Research

Module 3: Product Sourcing And Final Product Selection

Module 4: Packaging, Branding, And Amazon Brand Registry

Module 5: Shipping

Module 6: Listing Creation

Module 7: Product Launch And Getting Reviews

Module 8: PPC Advertising

Module 9: Scaling Your Business

Module 10: Advanced Selling Strategies
Freedom Builder Bootcamp Pricing
Freedom Builder Bootcamp costs $999. By looking at the price range, I can say straight away that this is not the cheapest Amazon course out there.




Here's a cheaper alternative to consider. Read my blog post about the Freedom Ticket course by Helium 10 & Kevin King.

However, there are certainly many other courses that are way more expensive on the market. For example Amazing Selling Machine.


Considering the creator's background and experience, I can say this is a decent course at a comparatively decent price.

On top of that, Greg's program also comes with a lot of freebies & bonuses that make $999 seem like a pretty awesome purchase. That's even before I mention the generous 14 days money-back guarantee policy.
Major Pros of the Freedom Builder Bootcamp
The creator, 8 figure seller, who also doubles as the CEO of Jungle Scout, is as legit as they come.

Weekly live coaching sessions

A private community with mentors

Comes with a free one-year subscription to Jungle Scout Professional ($999 value)

Advanced training bonus videos

Access to all previously recorded live coaching sessions

Frequently updated contents to the course

14-day money-back guarantee
Major Cons of the Freedom Builder Bootcamp
The price is quite high (but lower than the Amazing Selling Machine)

14-day money-back guarantee (Amazing Selling Machine has 30)
Amazing Selling Machine
Amazing Selling Machine (ASM) is a course by a company called amazing.com. It is an expert-packed course that claims to be the best in the industry. It is certainly one of the most popular Amazon FBA training courses on the market today.

The course aims to take hard work and uncertainties out of starting your own e-commerce business by walking you step-by-step through everything you need to know to build and grow your own Amazon store.

While other Amazon FBA courses only focus on one aspect of selling products, Amazing Selling Machine offers a total and comprehensive overview of the e-commerce landscape. It means that aside of learning how to sell on Amazon, you'll also learn marketing, eCommerce, and general business skills.


ASM is an all-around seller training program. The course is designed with multiple components that will help you closer to your Amazon dream and aspirations.
Amazing Selling Machine: What You'll Learn Inside
This course includes 9-module online web classes.
Each module contains a collection of video lessons that build on the knowledge learned in previous videos. 160+ lessons. The lessons essentially lay down the groundwork to get your business headed in the right direction toward success.

The formats of the lessons also afford you the flexibility to watch and study at your convenience.

The course instructors are three experts who have managed their own highly successful Amazon FBA businesses. The course is geared towards beginners and those who are looking to begin their Amazon journey.

While the sheer volume of the course means that advanced sellers are bound to gain invaluable knowledge from highly successful expert sellers.
Weekly Breakdown of ASM's 9-Module Course
Welcome Module

Module 1: Building Your Hot Opportunity List

Module 2: Evaluating Suppliers And Samples

Module 3: Ordering Your Inventory And Creating Your Brand

Module 4: Building Your Brand Assets

Module 5: The Perfect Product Page

Module 6: The Perfect Product Launch

Module 7: Optimizing And Scaling PPC

Module 8: Scaling Your Sales On Amazon

Module 9: Advanced Marketing And Traffic Strategies
Amazing Selling Machine Price
Amazing Selling Machine Amazon FBA course can be gotten in two different ways:
You can get access to the latest version of the course when you pay a $4,997 upfront fee.

You can also pay for it in 6 installments of $997 each.
Both payment plans grant you full access to the latest version of the course.

While that may be a pretty huge sum to pay for a course, you're giving a rather significant 30-day "no questions asked", money-back guarantee.


If you still feel that $4,997 should do more to safeguard its credibility, it will interest you to know that there's an additional 6 months refund policy under the ASM Success Agreement where they promise to refund you the full cost of the course and up to $5000 of unsold inventory if you meet the requirements.

If the price is still huge for you, consider Freedom Builder Bootcamp. Or.. Check out my other review of the Freedom Ticket Amazon FBA Course right; what is Freedom Ticket course. It's much cheaper.
Major Pros of Amazing Selling Machine
Created and taught by entrepreneurs who have had considerable success on Amazon

The training is very practical, comprehensive, and well structured

Regularly updated with new content. With a major revamp of the course each year

30-day "no-risk" money-back guarantee

Monthly group and live coaching

Very active and helpful private community
Major Cons of Amazing Selling Machine
Ultra-high price.
Freedom Builder Bootcamp vs Amazing Selling Machine: The Verdict
Both of these courses are very good and come from people with verifiable success in the e-commerce ecosystem.

One striking difference between both sellers' training programs is the price, with ASM coming at almost 5X that of Freedom Builder Bootcamp.

Both have live training and mentors, both come with Amazon FBA-related software, and both have private communities...


Whichever one you choose, it's hard to go wrong here. I'll leave the links to the best offers and bonuses for them down below.


Enjoy!

Best,
Vova Even :)

P.S - Other options of Amazon FBA courses include the Helium 10 Academy course, and Jungle Scout Academy course.
Table of Contents
Freedom Builder Bootcamp vs Amazing Selling Machine - How do They Stack Up?

First... About Amazon FBA Courses

Making Money Online Is Not Easy

Why Get into Amazon FBA?

Why Freedom Builder Bootcamp Or Amazing Selling Machine

Freedom Builder Bootcamp

Freedom Builder Bootcamp: What You'll Learn Inside

Freedom Builder Bootcamp Pricing

Major Pros of the Freedom Builder Bootcamp

Major Cons of the Freedom Builder Bootcamp

Amazing Selling Machine

Amazing Selling Machine: What You'll Learn Inside

Major Pros of Amazing Selling Machine

Major Cons of Amazing Selling Machine

Freedom Builder Bootcamp vs Amazing Selling Machine: The Verdict
Disclosure:  Hi! It's Vova :) Some of the links in this article may be affiliate links. I get a commission if you purchase after clicking on the link, this does not cost you more money, and many times I can even get a nice discount for you. This helps me keep the content free forever. For you. Thank you! :)