Honest Review Of The Freedom Ticket 3.0 Course By Helium 10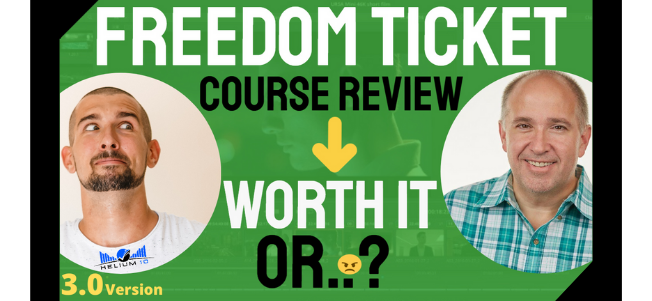 Table of Contents
What Makes the New Freedom Ticket 3.0 Course by Helium 10 So Great?

Freedom Ticket Course By Helium 10 And Kevin King

Freedom Ticket Creator: Kevin King

Freedom Ticket Course Video Reviews

Freedom Ticket by Helium 10 Review

Freedom Ticket Course Review (Week by Week)

Freedom Ticket and Helium 10

Freedom Ticket Price

The Bottom Line
Disclosure: Hi! It's Vova :) Some of the links in this article may be affiliate links. I get a commission if you purchase after clicking on the link, this does not cost you more money, and many times I can even get a nice discount for you. This helps me keep the content free forever. For you. Thank you! :) 
What Makes the New Freedom Ticket 3.0 Course by Helium 10 So Great?
Hi! Thank you for visiting my blog. My name is Vova Even, and I have been an active Amazon seller since 2016. I also share tutorials, hacks, and trade secrets on YouTube and Udemy. My goal is to help new, and advanced Amazon FBA sellers save more money while growing consistently.

In this article, I delve deep into Helium 10's and Kevin King's latest Freedom Ticket Course 3.0 course and explain why it's so valuable.
I've completed the course myself, and this is my real and honest experience.
Thus, if you've been wondering which online course would give you the best chance of becoming a successful Amazon FBA seller, it's for you!
All The Resources Connected To The Freedom Ticket Course

Freedom Ticket comes for FREE with the Helium 10 set of tools.

Free Helium 10 Account + Discounts - Use these codes for discounts: VOVA6M20 (20% OFF your first six months) or VOVA10 (10% OFF every month forever).

Learn more about all sorts of Helium 10 coupons and discounts here.

Freedom Ticket Landing Page - Find all the details about the course here.
Freebies & Additional Resources for Amazon FBA Sellers:
Let's start with a lil intro! :)

So... This is the technology age, and the internet is one of the greatest wonders of technology. eCommerce heavily relies on technology and the internet to be successful. What's more, eCommerce is one gigantic goldmine of opportunities that just about anybody can take advantage of.
Amazon, the biggest and shiniest eCommerce marketplace, has provided the platform for entrepreneurs to be their own bosses. Through their FBA business model, there is an enabling environment for sellers to earn their dream salaries and attain financial freedom (honestly, it's not easy... But doable!).
Earning the status of an Amazon FBA seller is easy, but being a successful seller on Amazon is a whole different ball game. To become a top-earning seller (and even to quit your existing job), you have to devise a great plan, execute that plan and make the right decisions all through the journey.

Then, you'd have a great chance to be able to make huge returns on your investments. And on the flip side, minimize your losses so that your journey goes smoother as you master your craft as an Amazon FBA seller.
If only new Amazon FBA sellers follow the above path…
Many new sellers fail to be successful on the Amazon platform as they meet with a chastening reality of a competitive eCommerce marketplace. Newbie sellers generally rush into selling a particular product without doing much research.

They are likely to gloss over important details that many selling courses usually forget to emphasize.
It's easy to suffer losses when you're a seller on Amazon. If you're not making enough sales, you're likely not breaking even.

Or, you might be making many sales, but you are not connected to the numbers, and you don't bring in profits...

Also, in a newbie seller's bid to be successful, it's easy to invest in Amazon FBA training materials and tools that are simply not worth it.


As someone new to the Amazon FBA world, it's very hard to figure out what works and what does not, who to trust, and who to be wary of.

Many materials and courses on Amazon FBA are simply money-making schemes by their creators to make more money via the course itself.

And not to help you stand on your feet as a real Amazon seller. Sometimes these course creators don't even sell on the platform... Yep, crazy stuff... :\
Freedom Ticket Course By Helium 10 And Kevin King
So... You might say, ah! We are talking about yet another Amazon FBA course?


Yes, this is a Freedom Ticket Course review. And I dare say, it's a great course that you need to start and manage your own successful Amazon FBA business.

With Freedom Ticket, you won't have to waste any money on trial and error. It is not a gamble. Although it is a business, and most businesses fail. That's the truth.


Investing in the Freedom Ticket Amazon business course is one of the best things you could do for your fledgling Amazon FBA career. It's a step-by-step blueprint for selling on Amazon.

My Related Blog Post: Freedom Ticket VS Freedom Builder Bootcamp – Which Amazon FBA Course is Right For You?
Certainly, there are many helpful materials, blogs, tools, and YouTube content that can teach you important lessons about selling on Amazon, but almost none will hold you by the hand and take you step-by-step through all the proven methods of managing a successful Amazon FBA business.


The Freedom Ticket course is a comprehensive overview of the Amazon FBA business model. It is a great course to start with and manage a thriving business on the platform.

The course was created by Amazon FBA seller Kevin King. Kevin is a real seller who has made millions selling on Amazon, he is selling even up to this day! I've personally learned a lot from this course and from other content of Kevin. Real talk.
Freedom Ticket Creator: Kevin King
Freedom Ticket is a thorough Amazon course that helps its students build a real-time Amazon business from scratch. The course includes helpful tips, likely challenges you will encounter, and how to overcome these challenges as you pursue success on Amazon.


Freedom Ticket is the brainchild of Kevin King, a true reference for other sellers (both new and old) on Amazon. King is one of the early adopters and began his eCommerce journey as far back as 1995. He initially began with sourcing products and selling them on eBay. Even before Amazon, King was very much an e-commerce megastar.


King's initial experience then allowed him to transition to Amazon. Since 2015, Kevin King has developed, sourced, and sold products on the world's largest e-commerce marketplace to a very successful level. When you talk about the Amazon FBA business, King is that person who has actually walked the talk.

That is why he has the authority and audacity to create The Freedom Ticket Amazon seller training course so that other ambitious sellers on the platform can have the tools to become just as successful in managing their own FBA business.


King has built an enormous knowledge base over the years, and he's now one of the most authoritative speakers on the Amazon FBA business model. He can simplify complex ideas into candid talks. Learning with Kevin King is always interactive and engaging. King is easily one of the most sought-after guest instructors on several bestselling Amazon FBA courses around the world.
Freedom Ticket Course Video Reviews
Before throwing your hard-earned dollars on yet another Amazon business course, it's right that you want to know what you'll get. That's why I have put together a couple of Freedom Ticket Amazon training video reviews to help you decide.


I have made an accompanying video of my Freedom Ticket review on YouTube. Watch it here.



You can also check out this other video review of this Amazon training course, where I show which modules are included in it and what you'll learn in each module. if you'd like to know more before you invest money, this vid will also help you. It's down below here.


To give my audience another perspective about the Freedom Ticket Helium 10, I also have a couple of comparison videos where we review the course side by side with other popular offerings about the Amazon FBA business.


You can check out this Freedom Ticket vs The Last Amazon Course video, where I talk about both courses in great detail.



Last but certainly not least, check out this Freedom Ticket vs Amazing Selling Machine blog post, and video on my YouTube channel, where I compared both Amazon training courses side by side in-depth. Amazing Selling Machine is also an Amazon course.




Now, let's finish off with this one first, shall we?


Freedom Ticket by Helium 10 Review
The course is scheduled to run for eight (8) weeks. Students only have access to the weekly schedule when it's due. I think this is a thoughtful move by King as it safeguards students against the urge to binge-watch the content in one go.

If you do like to binge-watch, you can get all the modules open at once, but that costs more. I'll share the costs in a bit.

Bradley Sutton and other awesome Helium 10 experts appear in the course.


The material is more than 30 hours long with 60+ videos. Each module has downloadable written notes accompanying the video, so students can go over important info in the future. There are also handouts about important topics like accounting and product sourcing.
Freedom Ticket Course Review (Week by Week)
The course has been broken down into 10 weeks, and each week's material is outlined below.
Week 1 – Intro to Selling on Amazon
As you would expect, things start with a brief introduction about the Freedom Ticket Training by Helium 10.


The first module focuses on the opportunities available to entrepreneurs on the Amazon platform. Kevin shows you how you can make a decent amount of money on Amazon even if you are low on cash.

Kevin talks about different Amazon terms and glossary, he explains how much money you need to start, and he share actionable success principles for Amazon sellers.


First-timers would find week one lessons to be a very valuable overview of what the Freedom Ticket and Helium 10 packages can do for their Amazon FBA careers.

Also, it's important to note that you can access the first module completely FREE.

Freedom Ticket Free First Module.
Week 2 – Basics of Amazon Selling
In week two, you'll learn the basic business requirements. Business formation, business insurance, trademarks, etc...


Also, you'll learn how to make use of Amazon Seller Central and how to apply for a brand registry on Amazon.


King then moves into explaining branding and how to brand your products on Amazon, and he mentions how to improve customer loyalty (so you'll get more sales long term). He also talks about what to expect when you start selling on Amazon.

He finishes off the sections with a free lesson from Freedom Ticket Xtra, which is an advanced weekly live group coaching with Kevin and other Helium 10 experts. I'd recommend you click on the link above to learn more. It's great if you love getting "hand-in-hand" kind of help.
Week 3 – All About Money
Things start to get more interesting by the third week, where Kevin takes you through all the money things you need to know before you begin selling on Amazon.


You get an idea of your expected returns if you invest 5000 dollars in your Amazon business. We see real calculations and numbers here.


King then discusses cash flow, bookkeeping, business valuation, and even an exit (when you can sell your Amazon business for profit, hopefully, a big profit for you!).


King then finishes off by showing some of his own products. Whattt?? Does he sell that? Cool!!!
Week 4 – Finding a Product to Sell
In the fourth week, you'll learn everything you need to know about selecting a successful product to sell. You'll also see the Helium 10 product research tools in action, woohoo! Such as the Black Box tool.
Oh, and if the course has sparked your interest, I'm sure you would love using Helium 10. The best way to get your hands down on it is to get started with a Helium 10 free trial. Or, if you are ready to begin with a paid plan, the bottom image is your way to go.
When you click on the image above, you will be redirected to a landing page where you can purchase any Helium 10 plan (other than Starter) for a special price.

Helium 10 has provided me with not one but two discounts to share with my audience: VOVA10, good for 10% off for life, and VOVA6M20, good for 20% off for six months.

Back to the module, this one is all about finding great products but also differentiating yourself from the competition. You'll learn how to perform product research, how to pick the right products, and how to stand out from the crowd of other products. You'll learn how to evaluate products and use a spreadsheet application that makes it easier.


You'll also learn about competitive research and the importance of customers review. You'll see how to use Helium 10's Black Box tool to find products.

Kevin shares more of his products at the end of the module. Wo0t!

In case you'd like to learn more about product research on Amazon, I have prepared a free playlist on YouTube with over 30+ of my videos about product research.
Week 5 – Getting Your Product Made
You might want to note this week's schedule on your calendar because it contains most of the important content about selling on Amazon.


King tells you everything about product sourcing, which naturally leads you to find a profitable Chinese supplier to work with (or a supplier in any other country you might choose). I personally source from China, I like it.

He also teaches you important lessons on negotiation and paying a reasonable price for the products.


Then there are 12 common mistakes every new seller makes, don't skip that module for any reason.


You'll also understand how to develop a product that is truly differentiated.


The week's meeting ends with a series of videos on sourcing from India, and you'll also learn how to source from anywhere in the world.
Week 6 – Freight & Logistics
In this module, you'll dive into the logistics world of shipping products to Amazon.

You'll understand how to ship products, which methods there are for that, which problems can occur while shipping products (and the solutions to those problems).

You'll see a step-by-step video of creating a shipment inside Seller Central.

You'll discover how to work with prep centers and 3rd party logistic warehouses (in case you'll need to store your goods close to the Amazon warehouses), and you will need to do so in Amazon 2022, for sure.

Oh, and here's something cool! If you want to dive even deeper into the world of logistics to Amazon, I have a full and free course for you on this topic. You'll find it on my YouTube channel right here.
I have created it with Amit Rosenthal from Rosenthal Logistics and recently Proboxx.
Use Proboxx coupon code vovaeven100 to get $100 OFF your first shipment with Proboxx.
Week 7 – How to Make Sales on Amazon
Money time! In this module, you'll actually learn about how to make sales on Amazon, so you can build an actual business that runs like a clock.

You'll understand how the A9 search algorithm works, so you'll be able to create better product listings that can easily be found on the massive website of Amazon.

You'll also understand what actually ranks your product. Terms like impressions, conversion rate, clickthrough rate, etc. will be explained.

Annnnnd... Keywords! You'll see how to find the best keywords for your listing using the awesome tool called Helium 10 Cerebro. By the way, I have an award-winning (no joke) video of how to use Helium 10 Cerebro, with all the latest techniques. Watch it on my YouTube channel right here.
Or, if you are a readaholic, I have also briefed you about it in my recent article, where I discuss the newest Magnet and Cerebro feature introduced by Helium 10.
Week 8 – How to Create Your Sales Page
So... This one is, I guess, my favorite topic. Creating your listing (or sales page!). Your sales page works 24/7, all year round. Not bad, eh? I love eCommerce!

So in this module, you'll learn how to create a perfect listing that converts browsers to real buyers of your products.

Title, bullet points, product description, back-end keywords, A+ content, product images, product videos, and more!

You'll also learn about keyword optimization with Helium 10 Frankenstein, and you'll see how to use the Listing Builder tool to help you create that listing in an easier way.

BOOM! Here's another FREE gift for you connected to this topic!

I have a full and free course about Amazon listing optimization using the Helium 10 set of tools. 13 in-depth lessons. 2+ hours of content. 0 bs and 0 upsells. Pure content. Here's a link for you to the playlist on YouTube.

FREE Amazon listing optimization course using Helium 10

Week 9 – Launching Your Product
Time to go to the moon! Oh wait, it's not a post about crypto, lol, but still, let's launch your product and get you to page 1. In this module, learn how to do that with various tactics.

Which tactics?

Oh, man! Discounts, coupons, press releases, Amazon posts, Amazon live, secret URLs, Influencers, chatbots, and MUCH more!

This module talks about each of these tactics and techniques in-depth, so you can choose the best ones for you. To the moon!
Week 10 – Using Amazon Advertising
PPC - Pay Per Click Amazon ads. This module teaches you everything you need to know about this method of promotion on Amazon.

You can show ads against different keywords, people can click on these ads, and you can get a sale if you get a sale, great for you. If you don't, you still pay for that click. So you have to know what you're doing here...

You'll learn how to target different types of keywords and listings with ads. You'll learn how to do so efficiently, so you'll end up being profitable, even after investing money in PPC ads.

Please go through the lesson with the 10 Amazon PPC mistakes. Don't lose money foolishly.

You'll also see how to use Helium 10's Adtomic tool for Amazon PPC optimization.

There's also a Helium 10 Certification Test at the end of the module. Enjoy!
Freedom Ticket and Helium 10
People who invest in the Helium 10 set of tools automatically get access to the Freedom Ticket course for free.

To get access to the course, you simply have to sign into your Helium 10 account, and there you'll find the Freedom Ticket login. Hence, Freedom Ticket member login is via Helium 10.
Freedom Ticket Price
As mentioned before, Freedom Ticket comes for free with Helium 10. Alternatively, you can invest in Freedom Ticket without investing in Helium 10, but it's more expensive.

Freedom Ticket comes for free with the Helium 10 Starter ($39/Month), Helium 10 Platinum ($99/Month), Helium 10 Diamond ($199/Month), and Helium 10 Elite ($399/Month) plans. Yearly plans of Helium 10 also have it.

I'd recommend you visit the Helium 10 pricing page to see it all clearly. I also reviewed all the Helium 10 plans review, so the blog post is linked on the left for you.




If you want to get Freedom Ticket without the Helium 10 set of tools, you'll have to invest $997 or 3 payments of $397. I really recommend getting it with Helium 10.

Get Your Free Helium 10 Account + Discounts - use these codes for discounts: VOVA6M20 (20% OFF your first six months), or VOVA10 (10% OFF every month, forever)
The Bottom Line
Is Freedom Ticket worth it? Honestly, YES!
As a beginner in the Amazon FBA business, you'll need all the help you can get. And that help doesn't come better than Kevin King's Freedom Ticket Amazon course.

It has proven itself a useful resource not just for rookies but experienced Amazon merchants who make nowhere near enough money than their potential deserves.


The Freedom Ticket course represents good value for money when one factor is the collaboration with Helium 10 suites. It's like killing two birds with one stone (please don't kill brids tho, lol).

Helium 10 is a powerful tool that every seller should have in their toolkit, and when you pair that with a course that teaches you how to properly harness its power, your potential as a seller is virtually limitless.


Finally, Amazon is constantly changing and improving. Likewise, Freedom Ticket by Kevin King is also constantly being upgraded to meet modern demands. And again, if you need more personal touch, then the Freedom Ticket Xtra also includes twice-weekly live sessions with Kevin or other awesome Helium 10 members.

I wish you all the best! And here are all the relevant links for you!

Free Helium 10 Account + Discounts - use these codes for discounts: VOVA6M20 (20% OFF your first six months), or VOVA10 (10% OFF every month forever).

Freedom Ticket Landing Page - find all the details about the course here.

I wish you all the best,
Vova :)
P.S - Another strong competing course is Freedom Builder Bootcamp by Jungle Scout. Actually, I've compared them both in a detailed post, which I welcome you to read here; Freedom Ticket Vs Freedom Builder Bootcamp.
Table of Contents
What Makes the New Freedom Ticket 3.0 Course by Helium 10 So Great?

Freedom Ticket Course By Helium 10 And Kevin King

Freedom Ticket Creator: Kevin King

Freedom Ticket Course Video Reviews

Freedom Ticket by Helium 10 Review

Freedom Ticket Course Review (Week by Week)

Freedom Ticket and Helium 10

Freedom Ticket Price

The Bottom Line
Disclosure:  Hi! It's Vova :) Some of the links in this article may be affiliate links. I get a commission if you purchase after clicking on the link, this does not cost you more money, and many times I can even get a nice discount for you. This helps me keep the content free forever. For you. Thank you! :)