Freedom Ticket VS Freedom Builder Bootcamp – Which Amazon FBA Course is Right For You?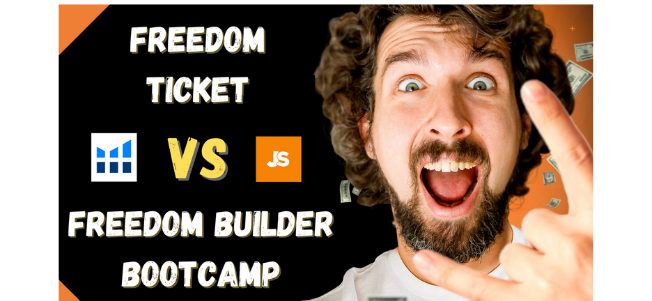 Disclosure: Hi! It's Vova :) Some of the links in this article may be affiliate links. I get a commission if you purchase after clicking on the link, this does not cost you more money, and many times I can even get a nice discount for you. This helps me keep the content free forever. For you. Thank you! :) 
Comparing the Amazon FBA Bootcamps: Freedom Ticket vs Freedom Builder
But before we begin, if you would want to explore the resources associated with both courses now, here they are:

Freedom Ticket by Kevin King comes for FREE with the Helium 10 set of tools.
Free Helium 10 Account + Discounts - use these codes for discounts: VOVA6M20 (20% OFF your first six months), or VOVA10 (10% OFF every month, forever).
Learn more about all sorts of Helium 10 coupons, discounts, and promotions in my other article here.
Freedom Ticket Landing Page – find all the details about the course here.
Freedom Ticket Course Review – In-depth review of the course on my blog.
-------------------------------------------------


You'll find all the best deals connected to Freedom Builder Bootcamp by Jungle Scout & Greg Mercer via the links below.

Freedom Builder Webinar
Freedom Builder Set Of Bonuses Number One
Freedom Builder Set Of Bonuses Number Two

And for an in-depth review of the course, read my blog "Freedom Builder Bootcamp Course Review."

Here are some discounts that may double your delight:

Jungle Scout 50% OFF Your First Month
Jungle Scout Seasonal Deals
Jungle Scout Yearly Deals

And here are some goodies that I always love sharing with you:

Now let's begin formally with a bit of context. :)

In a world today where the COVID-19 pandemic is a thing, more and more people are considering launching their own online businesses. If you have been doing your research on online business, you must have noticed that business is booming. And it is not hard to see why…


Since the beginning of the year 2019, the world of e-commerce has attained almost unimaginable heights. The number of visits to online business platforms has increased from 14 billion to a staggering 22 billion visitors as of June 2020.

It's no secret that the pandemic has been one of the catalysts for this growth, as people have had to adopt a new lifestyle centered around surviving in an era of COVID-19.
So, eCommerce is easy, right?
Yes, starting an online business in 2022 is very easy. However, being easy to start doesn't necessarily mean being easy to do well. But the opportunity is there. I've been selling online since 2016, it's not easy to do it well, honestly.


Fulfillment by Amazon is an opportunity, and it has been there for a long time. The right tools are available. The right products are available, and they are many. The profit is there to be made.


Finally, and most importantly, the right Amazon FBA courses are available to give you the best chance of making as much money as you want.
If you have been an Amazon seller for a while now and want to take your sales to the next level, then you know what Freedom Ticket vs Freedom Builder Bootcamp – a comparison post – is all about. But if you are new to selling on Amazon or still considering it, the next few sections should give you more insight about Amazon FBA and why you'll need all the help Amazon seller's courses can give you.
What is Amazon FBA?
Amazon FBA is short for Fulfillment by Amazon and is a program that handles inventory storage, order fulfillment, returns, and customer service for Amazon third-party sellers. So, in a nutshell, Amazon handles all the logistics of selling for you, so you can focus on other aspects of the buying and selling trade.


It is really difficult to imagine how the Amazon FBA model could work years ago. Entrepreneurs starting their own online business would be nearly impossible.

However, with the advent of the internet, a platform like Amazon FBA, both small and big-time sellers can leverage Amazon's unmatchable supply chain and in-house marketing platform to manage their own e-commerce business right from the comfort of their homes.
My Related Blog Post: 5 Best Free Amazon FBA Chrome Extensions to Use This Year
Making The Most of The Amazon FBA Opportunity
If anybody tells you that being successful on Amazon is a given, they are not being frank. Amazon makes it simpler for sellers to launch a unique products, advertise their products, and satisfy customers' orders.


You and every other seller on the platform have roughly the same starting point, but the challenge for you is to figure out how to rise above the fierce competitor and stand out.


And to stand out, you need to master a few things about running a successful e-commerce business:
How to do product research the correct way

How to deal with international suppliers

How to ship inventory from overseas to an Amazon fulfillment center

How to prepare optimized product listings

How to run a profitable PPC Advertising campaign
You see, to make the most of Amazon, you have to be ready to learn. And there is a heck of a lot to learn (these are just some of the things you need to know)!
Why You Need to Invest in an Amazon FBA Course
Selling on Amazon is a real business that you have to take seriously to maximize the opportunity. But for any business, the idea that you may need to undergo some kind of training to get a real hang of it would not be a surprise. Why should selling on Amazon be any different?


Certainly, you can learn everything you need to know about Amazon FBA on your own. Thankfully, there are enough free resources on the internet, like blogs and videos on YouTube, that will help you launch and grow your business on Amazon. Whether you are a beginner or an advanced seller, there are always free lessons out there that can help you move to the next level.

Here's a video of mine that talks about the topic of investing in Amazon FBA courses.


However, with a good Amazon course, you are sure of what you'll get from it - a solid foundation on selling on Amazon and every other basic that you need on the journey.

Good Amazon FBA courses will teach you good product research, how to approach suppliers, and shipping methods, conduct profitable PPC ad campaigns and scale your business. A good course would also include lessons on good practices and common seller's pitfalls to avoid.
Taking an Amazon sellers course can help you avoid making a costly mistake from the very beginning. For instance, there is a high chance that you may be jumping into a saturated and overly competitive niche or overstocking a product right from the beginning. These are mostly schoolboy errors that a good course will help you avoid.
Taking a good course means you'll be learning from experts and successful Amazon sellers who have walked the talk. These experts will help you eliminate the learning curve and ensure you are focused on the right things.

Overall, being guided under the wings of industry experts gives you your best chance of understanding the essential ways Amazon works and mastering the most profitable growth strategies to adopt.
How to Select the Right Amazon FBA Course
There are a ton of Amazon FBA courses out there. On the one hand, it's good that you have a lot of options to choose from. However, the fact you are spoilt for choices is a problem itself – it makes it hard to know which course is the right fit for you.


Given that many of them can be very costly - $2000 to $2500 price range – there is a really small margin for error when it comes to finding the perfect fit. That is why I have reviews of some of the hotly discussed Amazon courses to help you make an informed decision.
Freedom Ticket vs Freedom Builder Bootcamp
I have separate in-depth reviews of both the Freedom Builder Bootcamp and Freedom Ticket Amazon FBA seller training. Here (Freedom Builder Bootcamp) and here (Freedom Ticket).

I would recommend any of these two courses in a heartbeat to anyone considering selling on Amazon.

Why? Because they are both great courses that could be excellent choices based on your circumstance.
But if you have to pick just one, here's how they stack up against each other.

I also have video reviews of these courses. I'll link the below for you as well.
Freedom Ticket Amazon Course By Helium 10 & Kevin King
Freedom Ticket is a top-tier FBA course that is packed with all the important details about selling on Amazon.

Created by Kevin King, who is a master at what he does, Freedom Ticket is unlike other expensive courses. It offers a largely affordable approach to benefit from it.

Watch my quick video review of Freedom Ticket here.




With Freedom Ticket, the learner can leverage Amazon's trust for huge amounts of search traffic and quality. Launching an Amazon business and building it up to where you want it to be is way more possible with this course.

For a more in-depth review of the course, watch the other video of mine below.



Also, not just new sellers can benefit from taking Kevin King's course. Seasoned sellers can also expect to find advanced strategies that enable them to double up their sales whilst having potential returns on investment.

It really is that Amazon course that has everything you need to become a top-tier seller.
What You Will Learn Inside
Freedom Ticket contains the A-Z of selling on Amazon. From conducting expert-level product research to dealing with international suppliers, from creating optimized product listings to adopting the right shipping methods, Kevin King takes you on a journey about everything you need to know.


King is a master of selling on Amazon. And he has included some mind-blowing strategies, techniques, case studies, tips, and ideas in his comprehensive Amazon sellers training course.
Freedom Ticket Weekly Lessons Breakdown
1st Week - Intro To Selling On Amazon
2rd Week - Basics Of Amazon Selling
3rd Week - All About Money
4th Week - Finding A Product To Sell
5th Week - Getting Your Product Made
6th Week - Freight & Logistics
7th Week - How To Make Sales On Amazon
8th Week - How To Create Your Sales Page
9th Week - Launching Your Product
10th Week - Using Amazon Advertising
Freedom Ticket Pricing
Unlike other Amazon FBA courses in its league, Freedom Ticket only has a variety of ways for investment. You can either get it for completely free if you join the Helium 10 set of tools.

You have the course included with the Starter (39$/Month), Platinum (99$/Month), Diamond (199$/Month), and Elite (399$/Month) versions of Helium 10.

For a free Helium 10 account & discounts, check out this page.
Coupon code VOVA6M20 grants you 20% OFF your first six months, and VOVA10 grants you 10% OFF every month for life.




You can also pay for Freedom Ticket in one go, and it's gonna be $997. Or 3 payments of $397. I don't recommend it because it's quite expensive, and you don't get the set of tools by Helium 10.

Get more info about Freedom Ticket by visiting its landing page right here.
Major Pros of Freedom Ticket by Kevin King
Great structure and build-up to each lesson

Comprehensive training modeled for ten weeks

Easily digestible training lessons

Includes a full overview of the Amazon marketplace

30-day money-back guarantee
Major Cons of Freedom Ticket by Kevin King
Each module is open once a week (which might be a pro for some)
Getting all the modules at once requires full investment (and you get no software)
If you cancel your Helium 10 subscription, you lose access to the course.

What is On Offer in the Freedom Ticket Course
Full eight weeks of training with 2-5 hours of video instructions each week

More than 90 videos lessons totaling more than 30 hours

Downloadable slides available for every module

Downloadable written notes for every module

More than 30 extra resources on subjects and topics such as accounting, common mistakes to avoid, and a host of other things.
Why Freedom Ticket is a Great Option
The course is structured in such a way that those who want flexibility in their learning will find it to be perfect.

My Related Blog Post: Honest Freedom Ticket vs Amazing Selling Machine Course Review


King's methods, teaching style, and private lessons approach work in the best possible way that gives you the greatest chance to earn that six-figure return (or any other figure you want).

Kevin is also an eCommerce legend and has many great Helium 10 members supporting him in the course.
Freedom Builder Bootcamp by Jungle Scout
Freedom Builder Bootcamp is an Amazon FBA sellers training course from the stable of Jungle Scout, one of the leaders in software products specially designed to help Amazon sellers reach the next level. The Freedom Builder Bootcamp is ably led by the award-winning instructor and eight-figure Amazon seller Greg Mercer.
When it comes to listing and selling private label products on Amazon, Greg Mercer's name always comes out among the upper echelon. His extensive knowledge has certainly helped him create the Freedom Builder Bootcamp to help other newbie sellers reach the same heights.


The Freedom Builder Bootcamp program is an incredibly packed Amazon FBA sellers training course, perfect for all levels of Amazon sellers. However, if you are a new seller on the Amazon marketplace, you'd hardly find a better course that takes you from zero to 100.

All The Goodies Connected To The Course
You'll find all the best deals connected to Freedom Builder Bootcamp by Jungle Scout & Greg Mercer via the links below.

Freedom Builder Webinar
Freedom Builder Set Of Bonuses Number One
Freedom Builder Set Of Bonuses Number Two

Freedom Builder Bootcamp Course Review - In-depth review of the course on my blog.


What You Will Learn Inside
Everything you will learn by taking the Bootcamp is packed in carefully designed 10 modules. Each module represents the 10 necessary steps of selling on Amazon and is covered in-depth by Greg Mercer.


The ten modules cover important e-commerce & Amazon FBA topics like product research, sourcing, shipping, and scaling your business. It also comes with a host of other bonuses.


I have some video reviews of this course on my YouTube channel. The first part is here, and it's more of an overview.




The second (in-depth) video review is here. There I go step by step and share what you'll learn in each module.




And it is worth mentioning that the course comes with a subscription to Jungle Scout – a product research tool that Mercer himself created. More about that deal here.
Freedom Builder Bootcamp Course Modules
Module 1: Getting Started

Module 2: Product Research

Module 3: Sourcing

Module 4: Shipping

Module 5: Listing Creation

Module 6: Product Launch

Module 7: PPC Advertising

Module 8: Amazon Brand Registry

Module 9: Scaling Your Business

Module 10: Advanced Seller Strategies
Freedom Builder Bootcamp Pricing
The price for the Freedom Builder Bootcamp is $999. You get tons of free bonuses for that price as well.


$999 is a lot of money to pay for most things, but that price range is usual for Amazon courses these days. A good number of them cost even more!
Standalone Access
Major Pros of Freedom Builder Bootcamp by Jungle Scout
A lot of practical value for your money

Very comprehensive Amazon FBA course

Modules designed with the beginner in mind

Lots of advanced seller techniques for experienced sellers too

Practical strategies applicable to every market

Facebook group with Jungle Scout coaches

Live weekly coaching sessions

14-day money-back guarantee
Major Cons of Freedom Builder Bootcamp by Jungle Scout
The price might be high for some.

What is On Offer in the Freedom Builder Bootcamp
Detail-oriented 10 modules lesson plan with bonus sections

Free one-year subscription to Jungle Scout Professional

Live video coaching sessions

Free Amazon seller action plan

A 2022 products trends eBook

Amazon listing feedback

Greg's tips and tricks

Forever access to the course
Why Freedom Builder Bootcamp is a Great Option
Freedom Builder Bootcamp is notoriously great for its unmatchable coaching sessions and attentive support. Freedom Builder Bootcamp also offers an excellent collection of lessons that will benefit both new and old sellers on Amazon. Plus, when it comes to pricing, this course by Greg strikes the perfect balance between affordability and premium content.

When you look at the entire course and factor in the unrestricted access to Greg's empire, it's you'd seriously struggle to find a better overall package in a single Amazon course.

So Which One Should You Pick?

Well, I'd recommend you read my in-depth reviews of each course. Also, watch the videos. This will give you a brighter picture, you'll be able to invest in the course that suits your budget and needs.

All The Relevant Links From This Blog Post

Freedom Ticket In-Depth Review Blog Post
Freedom Ticket Landing Page With More Info
Freedom Ticket Xtra (special live coaching)
Free Helium 10 Account + Discounts

Freedom Builder Bootcamp In-Depth Review Blog Post
Freedom Builder Webinar
Freedom Builder Set Of Bonuses Number One
Freedom Builder Set Of Bonuses Number Two

Jungle Scout 50% OFF Your First Month
Jungle Scout Seasonal Deals
Jungle Scout Yearly Deals

Thank you, and all the best!

Yours,
Vova :)
Disclosure:  Hi! It's Vova :) Some of the links in this article may be affiliate links. I get a commission if you purchase after clicking on the link, this does not cost you more money, and many times I can even get a nice discount for you. This helps me keep the content free forever. For you. Thank you! :)