Freedom Builder Bootcamp Course Review (Great Or Sucks?)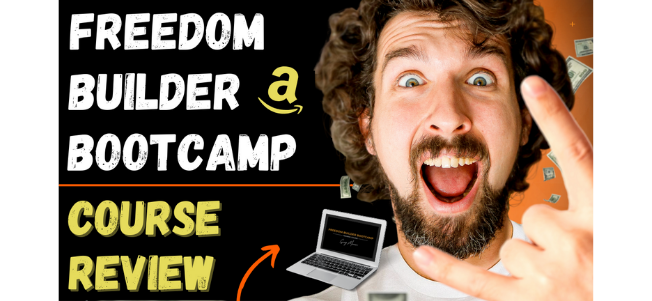 Table of Contents
Freedom Builder Bootcamp Course: My Detailed And Honest Review

Unbiased Freedom Builder Bootcamp Video Review

Who's Behind The Freedom Builder Bootcamp?

What is the Freedom Builder Bootcamp

Freedom Builder Bootcamp Course – Modules Breakdown

Freedom Builder Bootcamp Bonus Resources

Freedom Builder Bootcamp Cost

Freedom Builder Bootcamp Money Back Guarantee

Is Freedom Builder Bootcamp By Jungle Scout For You?
Disclosure: Hi! It's Vova :) Some of the links in this article may be affiliate links. I get a commission if you purchase after clicking on the link, this does not cost you more money, and many times I can even get a nice discount for you. This helps me keep the content free forever. For you. Thank you! :) 
Freedom Builder Bootcamp Course: My Detailed And Honest Review
In this blog post I'll share my honest review of the Freedom Builder Bootcamp course, I've actually invested in it, I've completed it, and I'd like to share my thoughts and experience with you, so you'll be able to make the right choice for yourself if you are interested in it.

My name is Vova Even, Amazon seller since 2016, and a creator on the internet in the Amazon space.

I have a YouTube channel, my blog here, and tons of free Udemy courses. Feel free to explore.

If you have been eyeing the Amazon FBA, you may have heard of Jungle Scout, an awesome software company that houses the Freedom Builder Bootcamp course, and Greg Mercer (the creator of the course, and CEO of Jungle Scout), two of the more notable names in the Amazon FBA ecosystem.

And most importantly, you may have come across the Freedom Builder Bootcamp by Jungle Scout during one of your Google searches for what you need to earn that big income selling on Amazon.

So.. I'm hoping that I'll be able to deliver the truth to you about this course in this post. Let's go.

---------------

You'll find all the best deals connected to the course via the links below.

Freedom Builder Webinar
Freedom Builder Set Of Bonuses Number One
Freedom Builder Set Of Bonuses Number Two


And here are some freebies and additional resources to foster your growth as an Amazon FBA seller:
Our Amazon FBA Community on Facebook
---------------
One of the most difficult things about investing in a video course is that you don't know what you'll get. It's hard to tell whether a video course content is right for you or whether the instructor's teaching style fits well with what you're accustomed to.

Therefore, to save you the trouble of getting scammed, I have subjected the Freedom Builder Bootcamp by Greg Mercer. Yes, that Greg – the owner of the popular Amazon FBA software tool Jungle Scout!
Now, Greg Mercer is the creator of the Freedom Builder Bootcamp, and he wants you to trust that he has your best interest in mind. But the problem is, you don't know who's Greg or what he represents.

Even though you're excited to begin your Amazon hustle, the world of online learning is filled with both gold-like resources and, sadly, worthless pieces of trash.
So, which part of the divide does Freedom Builder Bootcamp falls into? Let's find out.
Unbiased Freedom Builder Bootcamp Video Review

This may be quite a long read for some. So I have made a short video on YouTube where I give a brief overview (some 11 minutes!) about what the course is and what it is for, and what is inside.



But for those who still want an in-depth review of the Freedom Builder Bootcamp, I've also got a much longer video on my YouTube channel where I walk you through all the modules.
Whichever format you prefer, there's knowledge to be shared with everyone. Enjoy.


Who's Behind The Freedom Builder Bootcamp?
Greg Mercer. And who exactly is Greg Mercer?
Grey started as a civil engineer who had just about the regular job working as a corporate civil engineer in Pensacola, Florida.

Like the majority of us, Greg increasingly became bored by the 9-5 status quo and began scheming about how to replace his income by selling on Amazon from anywhere in the world.

He eventually made his first sale in 2013 and soon scaled up his revenue to match his existing salary. To enhance the all-important process of product research, Greg began developing a chrome extension that allows him to easily sort and display info about products from Amazon.

That was the beginning of the creation that Greg was most popular for – Jungle Scout.
Jungle Scout is a SaaS Amazon FBA tool that helps other aspiring Amazon vendors do the same as Greg – which is replacing their regular day job with a hustle that can deliver six figures revenue.
My Related Blog Post: Jungle Scout Free Account and Trial (Can You Get It?)

With a good product – Jungle Scout – and success selling on Amazon to back him up, Greg started including other information, features, and resource targeted specifically toward Amazon sellers.

Gradually, his online presence, specifically the Jungle Scout YouTube channel, gained more followers. This led him to put out more informative content, which all cumulated in him launching his comprehensive Amazon FBA course, Freedom Builder Bootcamp.

This is Greg's practical knowledge, insights, and experience put together in an online course to help other current and aspiring Amazon sellers reach success on the platform.

Jungle Scout discounts can be found here:
What is the Freedom Builder Bootcamp
The Freedom Builder Bootcamp is a comprehensive and solid course. Certainly, Greg's course is one of the best Amazon FBA courses online out there. Other good option is Freedom Ticket by Helium 10.
The course is perfect for all levels of Amazon sellers. Most especially for new sellers and beginners who, admittedly, would have a lot of things to learn and improve upon. Greg has provided a tremendous amount of Amazon FBA content in over 30 hours of video content along with accompanying PDF content. And there are live trainings that occur every week!

No doubt seasoned Amazon sellers would be amazed by the amount of knowledge Greg has included here, including first-hand usage of the Jungle Scout tool. Which is kind of the resource tool Greg has based his lessons on. No surprises there I guess.
Freedom Builder Bootcamp Course – Modules Breakdown
Freedom Builder Bootcamp has ten (10) modules that teach selling on Amazon in depth. The course also has bonus sessions and helpful resources for further study.

In the following sections, I break down each module so that you can know what to expect before buying the course. And if you prefer videos, I also have video reviews of the Freedom Builder Bootcamp up on YouTube. You can find the playlist with both of the reviews right here.
Module 1: Getting Started and Business Setup
This module starts with Greg explaining to you how BIG Amazon is and the various business models like wholesale and drop-shipping. Greg focuses on the private label niche, of course.
The model encourages students to note the various technical terms often used selling on Amazon. The Jungle Scout Chrome extension is introduced and used to perform a simple task as students will also understand the product search database in this first module.
My Related Blog Post: Best Jungle Scout Chrome Extension Free Alternative
Module 2: Product Research
The second module focuses on selecting the most profitable niche. Greg talks about what makes a successful product, which products are good to sell, and those that are not particularly good for a beginner, like glass products or electronics.

You'll learn various techniques using tools like Keyword Scout to identify whether the selected products or niche is any good or not.

Several other tools from the Jungle Scout like Opportunity Finder and Product Database, are also introduced in this module.
Module 3: Product Sourcing and Final Product Selection
This module and the preceding one are very important because they teach you how to find profitable niches and sources for products.
The module explains how to get a hold of your competitor's suppliers, including sourcing from places such as Alibaba and the Indian markets.

This module teaches you how to create bonds with suppliers from different backgrounds and cultures that aid profitable business dealings. Apart from the unique ways this module teaches you to approach suppliers, Greg has included Jungle Scout's Supplier Database to teach you how to make your searches quicker and effortless.
Module 4: Packaging, Branding, and Amazon Brand Registry
Greg explains how to stand out with branding, labels, and packaging. Greg shows you how he does it, for real. He explains things like selecting a brand name, choosing labels, etc.

Then, the module dives into packaging and fulfilling Amazon package requirements. This about size of packages and the resulting fees, and other things like when you have to include "Made in China", in the product's package, are discussed.
Module 5: Shipping
This can also be thought of as the shipping module. This module covers every nitty-gritty you need to know about the shipping process. Air shipping, sea shipping, etc.

You will also learn about the Amazon fulfillment center, its fees, and the usual storage process. Greg shows you how freight forwarding works along with his shipping checklist.

He also provides valuable insights on how to reduce your shipping and storage costs while maintaining a healthy supply of your products.


Module 6: Listing Creation
This module talks about the important matter of an Amazon listing. The listing is essentially how your products look on Amazon, and you're going to learn the entire process of creating a perfect listing that is SEO friendly.

Greg teaches you a simple hack of the Amazon A9 algorithm to have your products in a better position in a search result. We also get introduced to Jungle Scout Listing Builder, which is a tool that helps you create awesome listings.

Greg outlines his seven steps plan for a productive listing with great click-through rates. Also, Greg finishes things off with the importance of catchy and clear product images and how they affect your click-through percentages and conversion rating.
Module 7: Product Launch and Getting Reviews
All the preceding lessons are kind of building up to this module, which is getting a perfect product launch. Greg analyses the steps necessary to have the perfect launch of your products.

He teaches you different ways of launching your products that promote sales, like how to obtain the #1 release badge on your product listing. He also shows you how to promote your products using Jungle Scout.

The rest of the module talks about promoting your products. Particularly, he talks about how to use Amazon ads and Jungle Scout email campaigns and promotion features.

Finally, getting reviews. He teaches you where and how to get your review. He goes in-depth about how to go about getting this done effectively.
Module 8: PPC Advertising
Relying on organic traffic and smart keyword ranking alone won't be enough to get you the desired levels of sales on Amazon.
Greg knows this that's why the Freedom Builder Bootcamp has a complete module on Pay Per Click Advertising.
In this module, Greg teaches you how to effectively set up a PPC Advertising campaign using Amazon paid traffic feature. It's everything you'll ever need if you ever decide to do PPC.

Jungle Scout also has a great tool for optimizing Amazon PPC, which is called Jungle Scout Ads Analytics.
Module 9: Scaling Your Business
Once you start making sales, what do you do? Do you stop? Hell no. You scale and understand how to make even more sales.

Module 9 is all about scaling your business to reach even more buyers.

Greg takes you through what your daily management should look like, your Amazon account health, avoiding violations, and lots more.

He also gives you valuable lessons on how to automate your daily management process. He also touches on topics like building a team and selling your Amazon business in the future.
Module 10: Advanced Sellers Strategies
Finally, the last module is about advertising outside of Amazon, like using Google or Facebook ads. This module teaches you that as well as some pretty advanced moves one can make to create sales funnels to maximize lead generation and conversions.

Practicing the lead magnet approach is one of his trusted and most used strategies. He also dives into business migration, which is something I've done myself, moving my business to other Amazon markets, such as Canada.
Freedom Builder Bootcamp Bonus Resources
There are options for bonuses with your investment of the Freedom Builder Bootcamp course. You choose which one is good for you. Both cost the same, but they carry different bonuses with them.


The first set of bonuses is located here. The second set of bonuses is located here.

The first bonus package includes:
Free Monthly coaching sessions and tutorials (live sessions)

Jungle Scout generally offers three standard price plans, including Basic, Suite, and Professional. The JS Suite is the second and most popular plan. You get a free subscription to it when you purchase the Freedom Builder Bootcamp Course valued 589 dollars.

My Related Blog Post: Jungle Scout Basic vs Suite Plans Review

Comprehensive Amazon seller action plan ($59 value)

Priority onboarding for private sessions ($199 value)

eBooks containing the latest products trends ($99 value)

First-class access to the Freedom Builder community ($99 value)

Amazon listing feedback ($699 value)

The second bonus package includes:
Six seats included ($2,295 value) - seats allow you to give access to your Jungle Scout software for virtual assistants or partners without sharing the password. Great for teams.
Two seats are included in Freedom Builder Bootcamp ($999 value) - you can have one extra person accessing the training for free. Without sharing passwords.
How to sell on Amazon 2022 PDF ($99 value)
Getting started checklist ($99 value)

Month By Month Seller Guide ($39 value)

Five entries to win one of five $100 Amazon gift cards
Freedom Builder Bootcamp Cost
The Price of the Jungle Scout Freedom Builder Bootcamp is $999. At first glance, that may seem like a lot of money to pay, especially for someone who's just starting on their Amazon FBA journey.
But Amazon courses are typically expensive – and most are well above the $999 price we are talking about.

And considering that it comes with many different bonuses, it amounts to killing tons of birds with one stone (does it even make sense? lol). And please, don't kill birds.


Freedom Builder Bootcamp Money Back Guarantee
Greg provides a 14-day money-back guarantee for the first package. This gives you an incredible opportunity to get a feel of the course before deciding if it's for you or not. Or 7 days for the second package.

If you don't like it, request your money back, and you will be refunded. No questions asked.
Is Freedom Builder Bootcamp By Jungle Scout For You?
One thing is clear: Greg Mercer is legit, and the Freedom Builder Bootcamp Jungle Scout is not a scam. I went through it myself, and you can watch my videos where I tell you about the experience. Just to remind you, the playlist of the reviews is here.

Amazon FBA is a business and a tough business model. Honestly, I've been selling there actively since 2016. I am still an active seller. Like all businesses, success is never guaranteed, and there's still a chance that you may end up on the losing side.

However, we are talking about selling in the biggest marketplace in the world. Succeeding on Amazon can be very rewarding. If there's one person out there or resource I can confidently say gives any aspiring seller a great chance, it's Greg Mercer and the Freedom Builder Bootcamp Course.

So go grab the bonuses that most fit what you need right now. I've gathered them right below this video. And I've also left a link for Greg's webinar that explains what you get more in-depth and generally explains what Amazon FBA is all about.


Enjoy, and best of luck to you! You've got it, and I believe in you! Let's goooooo! :)

Yours,
Vova Even :)

P.S - Here's a blog post of Freedom Builder Bootcamp Vs Freedom Ticket by Helium 10.
Table of Contents
Freedom Builder Bootcamp Course: My Detailed And Honest Review

Unbiased Freedom Builder Bootcamp Video Review

Who's Behind The Freedom Builder Bootcamp?

What is the Freedom Builder Bootcamp

Freedom Builder Bootcamp Course – Modules Breakdown

Freedom Builder Bootcamp Bonus Resources

Freedom Builder Bootcamp Cost

Freedom Builder Bootcamp Money Back Guarantee

Is Freedom Builder Bootcamp By Jungle Scout For You?
Disclosure:  Hi! It's Vova :) Some of the links in this article may be affiliate links. I get a commission if you purchase after clicking on the link, this does not cost you more money, and many times I can even get a nice discount for you. This helps me keep the content free forever. For you. Thank you! :)