Honest Freedom Ticket vs Amazing Selling Machine Course Review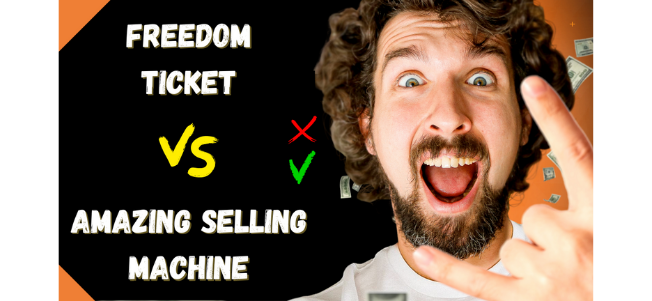 Disclosure: Hi! It's Vova :) Some of the links in this article may be affiliate links. I get a commission if you purchase after clicking on the link, this does not cost you more money, and many times I can even get a nice discount for you. This helps me keep the content free forever. For you. Thank you! :) 
Freedom Ticket vs Amazing Selling Machine Course
–
Head-to-Head Comparison
Are you looking for an honest review stacking up the Freedom Ticket and Amazon Selling Machine courses head to head? You've landed in the right place!
But before we get into details, here are all the resources from the article:
Freedom Ticket Resources

Amazing Selling Machine Resources

Amazing Selling Machine Course With All The Bonuses - Find the best offer for ASM here.

Amazing Selling Machine Foundations - The cheaper version of ASM.

Strange Amazon Selling Machine Course Review - In-depth article about this course.
Freebies & Additional Resources for Amazon FBA Sellers:
So... Let's start :)
See... There are several ways to make money online these days. Making money from the comfort of your home is an exceedingly appealing prospect and an opportunity many folks would jump at.
In fact, many people are already taking the bull by the horns and diving into the world of e-commerce.
When it comes to e-commerce and selling products online, Amazon is one of the avenues most people do down when trying to earn a passive but full-time income.
I started selling on Amazon in 2016; I even have a YouTube channel with 400+ videos about the topic of selling on Amazon. You'll find it right here.
Selling on Amazon, How Realistic Is It?
The marketplace is big (if not the biggest online), it sees a lot of activity, and it is one of the most popular ones. All of these make Amazon the perfect platform to make money. That's the reality. However, contrary to popular opinions, there's very little chance you will make serious money by doing little online. Certainly, not at a place like Amazon.
Why Purchasing an Amazon Sellers Course is Crucial?
You'll hear many testimonies about people making it BIG by selling products on Amazon. Those are the people who sell on Amazon the right way.
Also, you'll find even more people who don't earn anything tangible even after selling for years on Amazon. If you analyze closely, you'll discover that the overwhelming majority of that second group of sellers are those who know very little about selling on Amazon.
That's why an Amazon course is so important if you want to become a profitable seller on the platform.

But do you really need a course to start selling there? Or can you go without one? I have a video dedicated to that topic. You'll find it right below.

To sum it up, a course helps to save you money, time, mistakes, and whatnot. But you can still go without a course and use free resources. I still recommend doing a good course.


Would a Course Guarantee You Amazon Success?
Many people who read amazing success stories about Amazon dive into it with heightened expectations. There's nothing wrong with gunning for big things and wanting more.
However, many people who dive into it do so with unrealistic expectations. Unfortunately, that mindset threatens their understanding of what an Amazon seller's training can and should do for them.
An Amazon course can take you up several levels when it comes to teaching you the fundamentals of selling on Amazon. You can learn a lot when you take an Amazon sellers course.
But just having the necessary knowledge doesn't guarantee loyal customers or any success at all. Taking action and using that knowledge to improve your business matters a lot more.
So, what's the point of investing in an Amazon Sellers Training course?
Amazon, as a platform, makes it simple for entrepreneurs to launch unique products, advertise their products, and create a sustainable business.
To do all of the above successfully, you'll need to master the important aspects of selling, such as product research, marketing, and many other things (many, many, lol).
The main point of an online course is that it gives you high-quality Amazon FBA training and information. If you choose the right course, you can greatly increase your chances of being a successful seller on Amazon.
Knowledge and information are important ingredients of online commerce. Amazon FBA courses make it easy to have all the necessary ingredients at your fingertips.


Why Finding The Right Amazon FBA Course Is the Key?
A simple 'Amazon FBA courses' Google search will surely return a lot of results. There are a lot of Amazon FBA courses out there. Some great, some average, and many almost worthless.

The courses you invest in can largely affect your performance as an Amazon seller. So, you must do your due diligence when it comes to selecting a seller's course.

By the way, I have a full playlist on my YouTube channel where I review Amazon FBA courses. You'll find the playlist here.
If you do a Google search on 'the best Amazon FBA courses, I'm pretty sure Freedom Ticket and Amazing Selling Machine will be featured frequently in your results.


I have decided to compare those two popular Amazon FBA courses. I also have in-depth reviews of each course separately, and I highly recommend that you check out each write-up, as well as the accompanying video review.

My blog post about Freedom Ticket - In-depth article about this course.

My blog post about Amazing Selling Machine - In-depth article about this course.



Time to make a choice!

Torn between Freedom Ticket and Amazing Selling Machine? Keep reading as I evaluate each course along with features such as; price, discounts, course contents, course features, money-back policy, and lots more.
Freedom Ticket by Kevin King and Helium 10
When it comes to Amazon FBA courses and what you get, Freedom Ticket is always a great choice. Created by Kevin King (this already gives this course a lot of credibilities) because this is a guy who has been selling products online for more than 20 years. Since 1995. Heck, it's almost 30 now...

That's some staggering wealth of experience that Kevin masterfully displays in the course content.
There's a lot to like when you take the Freedom Ticket FBA course. If you're a new seller, you're sure going to find the instructor's style and approach very thoughtful and welcoming. Easy to understand and easy to follow.

He aims to take you from zero to hero – bringing you closer to your dream of launching an Amazon store and helping it grow to where you want it to be.

This course is great for those who want to start selling on Amazon and beginners who are already in the trenches.. But not only.

The length and depth King goes to in the Freedom Ticket course will be music to your ears, even if you're an advanced seller.

King teaches seasoned sellers how to scale their businesses and double up their incomes with some advanced lectures on advertising, marketing, product launching, dealing with suppliers, and much more!

I have a video review of the course and what's included in it. Check it out here.


Freedom Ticket: What You'll Learn Inside
The course content of Freedom Ticket can feel overwhelming (I mean, 30+ hours...), but when you consider how rich every lecture actually is, that isn't necessarily a bad thing.

The fact that the instructor has been selling on the Amazon platform for many years means he has a lot to say, and he does say it all in Freedom Ticket.


What's most often neglected by the course creators is how these lengthy video courses are delivered. Many times I see disorganization and chaos.

Here, King breaks down each module into several small, digestible lessons. They are organized, fun, and easy to understand.


Freedom Ticket Modules Breakdown
Module 1 – Intro To Selling On Amazon

Module 2 – Basics Of Amazon Selling

Module 3 – All About Money

Module 4 – Finding A Product To Sell

Module 5 – Getting Your Product Made

Module 6 – Freight & Logistics

Module 7 – How To Make Sales On Amazon

Module 8 – How To Create Your Sales Page

Module 9 – Launching Your Product

Module 10 – Using Amazon Advertising
I go more in-depth into each module in my full blog post about Freedom Ticket. You can read it here.
Freedom Ticket Pricing
Many other Amazon FBA courses in its league don't have the same flexibility in pricing as that which Freedom Ticket has. There are basically three ways you can access Freedom Ticket membership, all with varying costs.
First Option: Freedom Ticket Standalone Access
You can pay for standalone access to Freedom Ticket by paying a one-time fee of $997. If you don't have that sum of money for a one-time payment (or you just don't want to invest this sum at the moment), I'll show you how you can get it for much cheaper.
Second Option: Helium 10 Membership With Freedom Ticket (Starter Plan)
The other option where you gain access to the course is when you subscribe to a monthly plan of Helium 10. Quite frankly, the best option (if you ONLY need the course). The Starter plan.

The price is only $39 a month.

This is a huge bonus as it comes with no extra cost to your Helium 10 membership, even with the most affordable Starter plan.

Read more about this (and other Helium 10 plans) on the Helium 10 pricing page.

If you're wondering what Helium 10 is, just know that Helium 10 is an all-in-one software for Amazon sellers.




The tool is used extensively by Kevin King both in the course and in his private dealings with Amazon.

This is basically an amazing two-in-one package for both Helium 10 and Freedom Ticket.

I have a video review of the Helium 10 Starter plan vs Platinum plan (which we'll cover soon). You can watch the video on my channel.


Or read my blog on it here.
Third Option: Helium 10 Membership With Freedom Ticket (Platinum, Diamond, Elite Plans)
The other packages of Helium 10 cost a bit more, and they all grant you access to Freedom Ticket.

The advantage here is that you get all the other Helium 10 tools with these packages, unlike the Starter plan, which only grants access to Freedom Ticket and a few of the tools.

The prices? Platinum is $99 a month, Diamond $249, Elite $399.

You can save money by using the coupon code VOVA6M20, it saves 20% for the Platinum/Diamond plans for your first six months. VOVA10 saves you 10% on these plans every month, forever. Read more about Helium 10 discounts and how to apply them in this article here.
Freedom Ticket Xtra

There is a pretty cool option for those who want live coaching with Freedom Ticket. It's called Freedom Ticket Xtra, and with the power of that extra investment, you get access to a group of Helium 10 coaches every week. Including Kevin King himself. The price is $77 a month. Get more information about Freedom Ticket Xtra right here.
Major Pros Of Freedom Ticket Course
Created by Kevin King, a very smart Amazon seller with almost 30 years of eCom experience.

150+ detailed video lessons.

An intensive course that provides actionable tips for all levels of sellers.

Great overview of what the Amazon FBA program is all about.

Detailed handouts, spreadsheets, and PDFs that help you succeed.

29+ other eCom experts who participate in the course.

Essentially free when you purchase a Helium 10 membership.

Ability to get certified as an Amazon Expert after you finish the course.

30-day money-back guarantee.
Major Cons Of Freedom Ticket Course
Content gets dripped weekly (one module a week), so you can't access later modules if you need them asap.

No live coaching (unless you invest in Freedom Ticket Xtra)
Now, let's talk about the Amazing Selling Machine!
Amazing Selling Machine (ASM) is a course by entrepreneurs Jason Katzenback and Matt Clark, Dan Ashburn, Rich Henderson, and Mike McClary.

All of those powerhouses have experience with several online businesses, including Amazon FBA.

Amazing Selling Machine is an Amazon FBA course that helps you to start selling on Amazon. It's a step-by-step course, from beginner to expert.
Amazing Selling Machine: What You'll Learn Inside
Amazing Selling Machine features a 9-module video course that's broken down into several specific topics or lessons. With over 160 video lessons.
The course itself offers excellent value in the marketplace. ASM is taught by instructors with many years of e-com experience.
The course helps those who want to start selling on Amazon or beginners. Advanced sellers will also find good content there for themselves, but it's actually better for beginners.
Week by Week Course Content
($4,997 Value)
The following are what you'll learn when you invest in ASM:
Module One: Building Your Hot Opportunity List

Module Two: Evaluating Suppliers and Samples

Module Three: Ordering Your Inventory and Creating Your Brand

Module Four: Building Your Brand Assets

Module Five: The Perfect Product Page

Module Six: The Perfect Product Launch

Module Seven: Optimizing And Scaling PPC

Module Eight: Scaling Your Sales On Amazon

Module Nine: Advanced Marketing And Traffic Strategies

For more in-depth explanations of each module, please read my big blog post about the Amazing Selling Machine. You'll find it here.


Amazing Selling Machine Mentorship Program
($3,497 Value)
One of the many standout features of the Amazing Selling Machine is the mentorship program. The mentorship program is a commitment to students' success.
Having new students of the course essentially being mentored by others who have earned 7 figures on Amazon is one of the reasons this course is amazing.
The Amazing Selling Machine Private Community ($997 Value)
There is a community for sellers that ASM provides. There you can ask questions, interact with other members and mentors, share your winnings and struggles, and much more!
The Private Resource Vault ($1,497 Value)
You also get access to various resources that were battle-tested by the creators. These are different handouts, spreadsheets, etc. They save you time and money and ease the process of selling on Amazon.
The Ultimate Software Tool Suite ($2,997 Value)
ASM offers you its own suite of tools and software for Amazon. This potentially saves you a lot of money in the long run. And, of course, the software helps you with product hunting, keyword research, and much more!

The total value of the Amazing Selling Machine is $13,985!
Amazing Selling Machine Price
Amazing Selling Machine is notable for being the most expensive Amazon FBA course on planet earth.

Unlike Freedom Ticket, it does not have a free option when you purchase Helium 10 or any other FBA tool. Instead, you get access to ASM when you purchase the package following any of the two options below.
One-time payment of $4,997

Six payments of $997 each
There's no doubt almost $5K is a huge price to pay for any course.

Despite the huge price, making a good return on investment is very much possible with ASM.


Major Pros of Amazing Selling Machine
Huge course (160+ video lessons) created by sellers who have real experience and found considerable success selling products online.

Helpful mentorship program providing up-to-date advice.

A vibrant community where students can get help and other valuable resources.

Major Cons of Amazing Selling Machine
Super duper high cost.

Which Amazon FBA Course Is The Best For You?
Both Freedom Ticket and Amazing Selling Machine provide valuable information that can help both new and existing sellers crush it on Amazon.
When it comes to which course is the best, I can only give a subjective answer. Instead of focusing on which is the best, you can instead ask which is the best for your particular circumstance.
One deciding factor might be your budget. If that's the case, then definitely go for Freedom Ticket.

Is budget not a problem? Well, both will deliver, so it's up to you.

Anyhow, you'll have to put in the work with both of them. So.. Let's goooooo! :)

All The Resources From The Article

New Freedom Ticket Webinar - Discover exactly what you'll get from the course.

Freedom Ticket Course Landing Page - Find all the details about the course here.

Free Helium 10 account + Discounts - Use coupon VOVA6M20 (20% OFF your first six months), or VOVA10 (10% OFF every month).

Amazing Selling Machine Course With All The Bonuses - Find the best offer for ASM here.
Amazing Selling Machine Foundations - The cheaper version of ASM.

My blog post about Freedom Ticket - In-depth article about this course.

My blog post about Amazing Selling Machine - In-depth article about this course.
Good luck to you!

Yours,
Vova :)

P.S - There is another kid on the block that is very good for beginners, it's called Freedom Builder Bootcamp, and I have a review for this course right here. So, take a look... Enjoy!
Disclosure:  Hi! It's Vova :) Some of the links in this article may be affiliate links. I get a commission if you purchase after clicking on the link, this does not cost you more money, and many times I can even get a nice discount for you. This helps me keep the content free forever. For you. Thank you! :)