Best And New Helium 10 Coupon Code [Save BIG]
Table of Contents
Best Helium 10 Coupon Code and Discounts For Amazon FBA

Helium 10 – Introduction

Helium 10 in a Nutshell

Helium 10 Major Features

Helium 10 Plan Details

An Awesome Helium 10 Promo Code For You

How To Claim Your Helium 10 Coupon Code
Disclosure: Hi! It's Vova :) Some of the links in this article may be affiliate links. I get a commission if you purchase after clicking on the link, this does not cost you more money, and many times I can even get a nice discount for you. This helps me keep the content free forever. For you. Thank you! :) 
Best Helium 10 Coupon Code and Discounts For Amazon FBA
How can a great piece of Amazon FBA software like the Helium 10 be made even better? By making mouthwatering Helium 10 discounts and coupon codes available for you!
This is excellent news if you're an Amazon seller or somebody who is on the path to becoming an Amazon seller. Save big on Helium 10 today and enjoy your 2023!
Quick intro, my name is Vova Even, it's great to meet you! I've been an Amazon seller since 2016 and I've been sharing my journey as a seller, as well as tricks of the trade on my blog here, my YouTube, and my Udemy channels. Good day to you!
Listen, building a successful business on Amazon is dreamt of by many. If you are an existing seller who wants to grow on Amazon, you already know that you need software like Helium 10 to get ahead of your competition. I started using Helium 10 in 2017 for my own Amazon business, and I'm still an active user.
Helium 10 is an all-in-one solution for Amazon sellers with all the tools to help you grow your Amazon business. However, I have made it much easier to access the software and make the process customer-friendly through my Helium 10 promotion code offers – VOVA10 and VOVA6M20.

VOVA6M20 - saves you 20% OFF your first six months on Helium 10.
VOVA10 - saves you save 10% OFF every month, forever!

Both of them also grant you an extra free month on the yearly plans, woohoo!

All of the plans come with a 30-day money-back guarantee.

Not only will my Helium10 promo offers to save you money, but I have also given you a detailed step-by-step explanation of how you can easily add the Helium 10 coupon code to your Helium 10 account and benefit from the software's great packages.
Now before you scroll down to see the details, below are some freebies and additional resources for Amazon FBA sellers. Enjoy :)
Helium 10 – Introduction
To become a top-rated seller on the Amazon marketplace, one needs all the help they can get because there are many challenges to overcome.
One of the biggest challenges Amazon merchants have to face is that of having their product rank in the first pages of user queries, as well as finding good products to sell on Amazon (and a bunch of other stuff, lol).
But these are not very straightforward tasks to accomplish. The Amazon algorithm has made it increasingly difficult for sellers to ensure their products are found on the e-commerce website, and there are quite many people trying their luck as Amazon sellers.
Nevertheless, Amazon is a 100+ billion dollar industry, and nowadays, we can find people who are raking in millions through Amazon FBA.
With the Helium 10 suite, you have no excuse to get your hands dirty by getting into the Amazon FBA game or improving your current results on Amazon.
Helium 10 in a Nutshell
Helium 10 is a one-stop solution for Amazon merchants for managing all kinds of e-commerce tasks like keyword research, finding a niche, finding the best products to sell on Amazon, identifying trends, or optimizing product listings to increase sales exponentially.
Manny Coats is the founder of this all-in-one tool, and Helium 10 is currently used by more than 300K users worldwide, most of which are Amazon sellers. Helium 10 is now also available for Walmart sellers. And what's more?

Helium 10 comes with several promotional offers that sellers can enjoy and benefit from. I share all the details about the limited-time promotions in the link here; Helium 10 discount codes.
I've also prepared some tutorials of Helium 10 for you, so after you apply the discount and get to work, you'll have the tools and knowledge to make the most out of Helium 10. So here they are! :)

Helium 10 tutorials playlist (100+ videos on YouTube)
Helium 10 free listing optimization course (get your listing from 0 to hero on Amazon with Helium 10)
Helium 10 Major Features
A powerful and fast product research tool.

Finds various keywords in seconds.

Product listing optimization.

Effortless business management.

Analytics that helps in key decision-making.

Promotes e-commerce marketing and automation with confidence.

Includes the Freedom Ticket course (valued at $997)
The above features are just some of the reasons why Helium 10 is such a respected tool in the e-commerce ecosystem. There are many more tools packed within this piece of software that can be of benefit to its users.
I've dedicated a whole blog post for each one of them. You can read it my helium 10 tutorial. It's detailed and it will truly help you understand what each tool does.
Helium 10 Plan Details
There are several plans users of Helium 10 can choose when investing in the Helium 10 packages. I have summarized each of them below. You can also find a more in-depth comparison of all the plans on the Helium 10 pricing page.
Or you can watch my detailed Helium 10 pricing plans YouTube video below or read the blog post about helium 10 pricing.
This is how you get your feet wet and test out the software. Helium 10 free plan comes with minimal usage of MOST of the tools. For instance, you can get two uses of Magnet per day and can track up to 20 keywords.

You also get 20 uses of one of the core features called Black Box, and you get the Helium 10 Xray Chrome extension with 50 uses.

You won't be able to do much with this plan, honestly, but it helps you understand what Helium 10 has to offer without investing a dime. My step-by-step blog post about the Helium 10 free plan is also available. You'll understand exactly what you get with it. I've added the video here too.
The Helium 10 Starter plan grants you full usage of the Helium 10 Chrome extension (Xray), the 'Profits' profit analytic tool, and the Freedom Ticket Amazon course by Kevin King (A-Z Amazon FBA course, valued at 997$).

The price of this one is very affordable. Starting at $39 a month. You can read my "Helium 10 Starter vs Platinum" blog post. It compares the Starter to the next plan, Platinum.
The Helium 10 Platinum plan is a single-user plan that offers the option to use almost all of the Helium 10 tools. This is the most popular Helium 10 plan, and I recommend it for those who are just starting with the Amazon FBA business or those looking to start selling on Amazon. It's also great for current sellers who want to improve their results on Amazon.
The Helium 10 Diamond plan is mainly made for advanced sellers on Amazon. It's still a multiuser plan (meaning you can give access to Helium 10 to your partners or virtual assistants without sharing the password).

It offers expanded usage of all kinds of tools and the option to use new tools such as Adtomic for managing PPC and Portals for creating awesome landing pages, as well as monthly training with Helium 10 experts.
My Related Blog Post: Helium 10 Platinum vs Diamond Plans - Compared In Depth
The most popular and suitable plan for high-earning merchants or those earning less that want to network and learn from high-caliber Amazon sellers. The Helium 10 Elite plan gives you access to unlimited users and consists of all the tools for marketing, product research, analytics, optimization, etc.

As well as coaching by elite Amazon sellers, in-person workshops, and a special Facebook group to get the best possible help for your Amazon business and journey.
This is a plan that allows you to grab specific tools from the Helium 10 software. For example, if you only need the Xray Chrome extension, or Black Box for product research. You can invest in it, and only in it. The A La Carte plans can be found in the lower part of the Helium 10 checkout page. I'll explain to you how to get there in the next parts of this blog post.
My Related Blog Post: Helium 10 A La Carte Plan — Is It Worth the Cost?
An Awesome Helium 10 Promo Code For You
I have two Helium 10 promo codes directly from the official sponsors of the tool. The two Helium 10 discount codes are VOVA6M20 and VOVA10.
Promo code VOVA6M20 <---
The code VOVA6M20 grants 20% OFF the first six months of Helium 10. The code applies to the Platinum, Diamond, and A La Carte plans. Visit this page to quickly benefit from this code!
Promo code VOVA10 <---
The code VOVA10 grants 10% OFF each month for a lifetime. Also, The code applies to the Platinum, Diamond, and A La Carte plans. Visit this page to quickly benefit from this code!
How To Claim Your Helium 10 Coupon Code

I have made it very easy for you to benefit from each promo code available from the official Helium 10 company. I have listed out the simple steps you need to take for you to start enjoying Helium 10 with minimum fees. I have also added screenshots for each step that ease the process for you.
Step 1: Visit The Official Helium 10 Page
First things first, go to the Helium 10 official page and visit the signup section. To get started, you will have to create a free helium 10 account, then enter some personal details like your name, email address, and password.

After reading and agreeing with the terms and conditions of use and clicking on the signup button, you'll get a free account with a free trial.
You don't have to be a new user to benefit from the VOVA10 or VOVA6M20 discount codes. If you have an existing Helium 10 account, simply supply your email ID and password to log in to your account and continue with the succeeding steps below.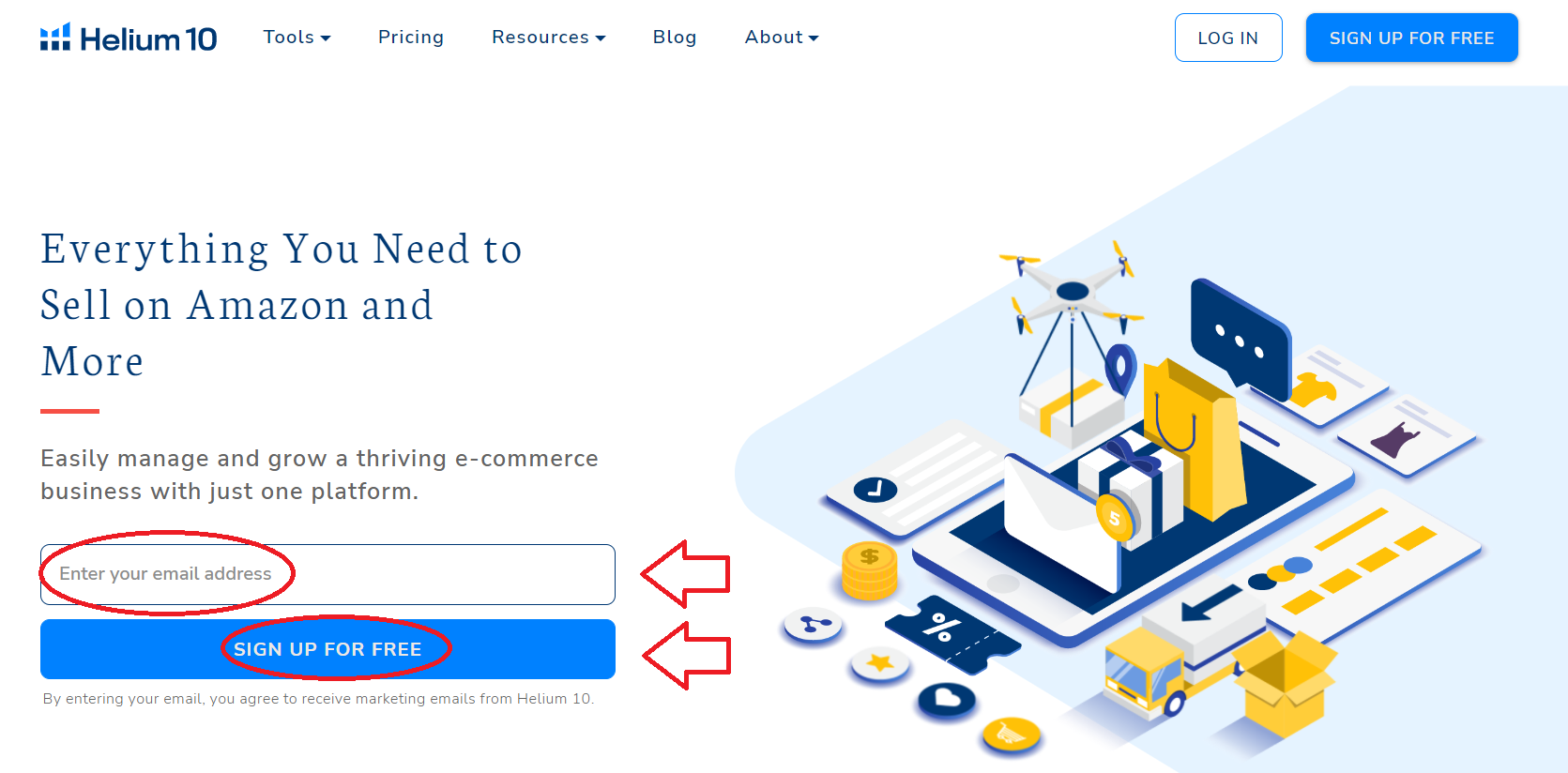 Step 2: Choose or Upgrade Your Plan
To enjoy the awesome Helium 10 bonuses, you will have to upgrade your subscription to one of the standard plans. The coupons do not apply to the Starter and Elite versions of the software.
On the top right, you will see the Upgrade your plan icon. Click on it to view the pricing plans and get a comparison of what each plan has to offer you. I have briefly introduced some of these plans above.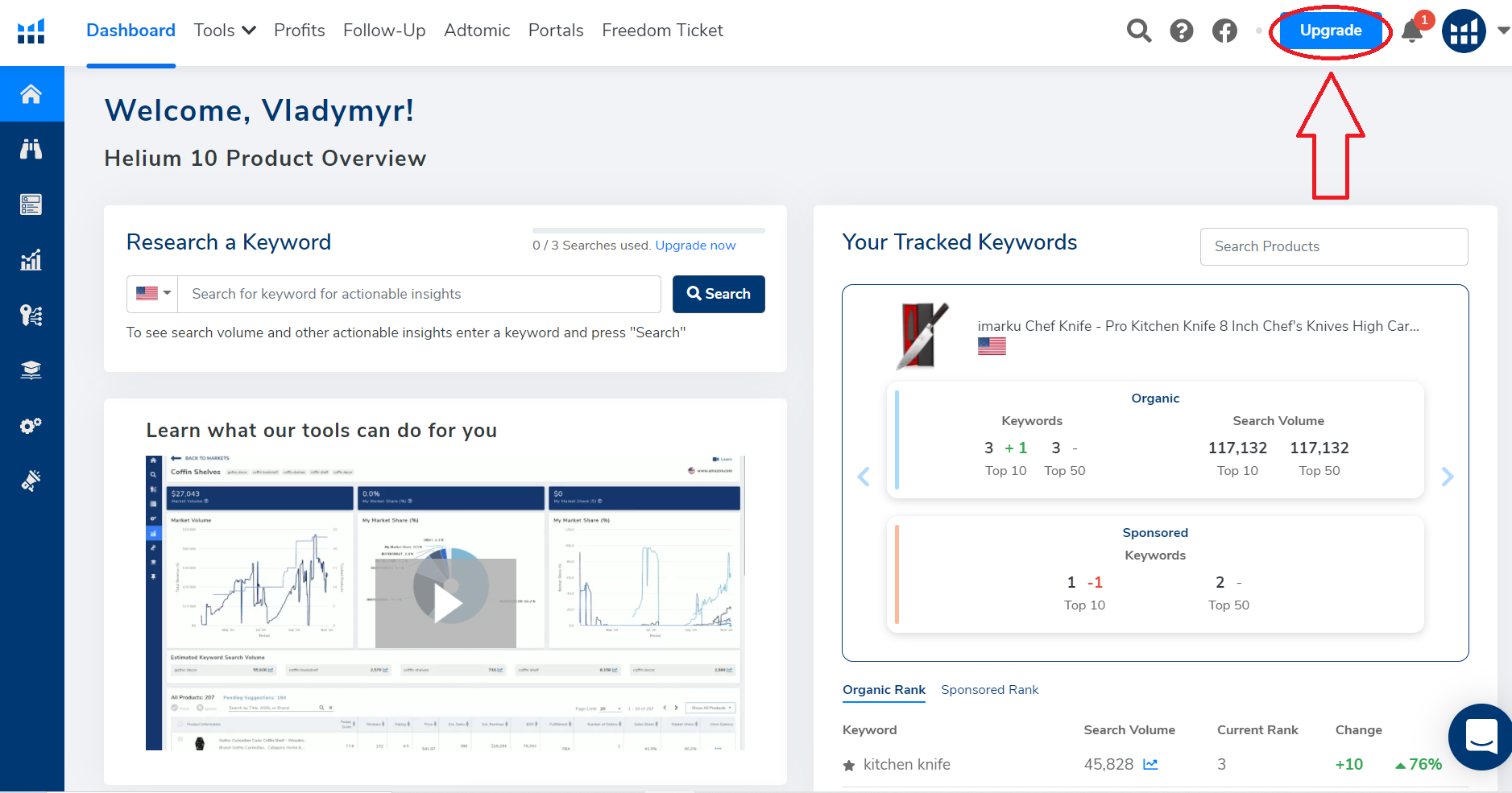 Step 3: Enter Your Coupon Code
Once you are on the upgrade plan page, choose the monthly option or the annual option. Monthly means paying every month for Helium 10, while annual means that you'll pay once a year, but with much bigger discounts.
Under the monthly/annual area, you will see a bar that says, "Enter coupon code." This is where you are to enter your coupon codes.
Enter the coupon code (VOVA6M20 or VOVA10) to see what discounts you get. Just to remind you, VOVA6M20 grants you a 20% OFF discount for your first six month, and VOVA10 grants 10% OFF every month for a lifetime. They both also work for the annual plans.
Step 4: Analyze The Pricing Of The Tool Before Paying
You need to see what tools are being offered by the various pricing plans you select. You can see the comparison and the pricing options of the four standard plans you have at hand before applying the coupon code. You can also see all these details on the Helium 10 pricing page. Or just watch the video that I've shared above.
On the left, after applying the coupon code VOVA6M20 or VOVA10, you will see the price with the 20% or 10% discounts, and on the right, you can see the original price.
If you scroll further down the page, you can find and add follow-up packages known as booster plans. These provide you with extra emails to send for your Helium 10 follow-up tool.
Once you are satisfied with your choices and ready to go, you can click on subscribe button and then proceed towards making payments.


Step 5: Make Payment
Click on the subscribe button, and a pop-up appears with fields for collecting your billing details. It's a simple form that will only need you to fill in your card number, CVV, and expiry date. Fill it all up and click on the Pay button.
Once you authorize and complete your payment, you can begin enjoying Helium 10 Amazon FBA suite at a discounted price. Yeeeeha! :D
So, What Are You Waiting For? :)
Helium 10 promo codes VOVA6M20 and VOVA10 help you save money when investing in Helium 10's excellent tools. Use the coupon codes to enjoy all that the software has to offer to you at a much cheaper cost to your pocket.
With my coupon code, you don't have to break the bank while being an Amazon seller. You can also use my YouTube channel to get extra help for your Amazon business. I wish you a great journey.
But... Don't just read this all day! Check out this page and quickly apply your code VOVA6M20 or VOVA10 to enjoy great discounts on Helium 10 packages you invest in. Enjoy!

Yours,
Vova Even :)

P.S - If you want to understand how to use all the tools in Helium 10, make sure to check my "Helium 10 Tutorials" playlist on YouTube. It features 120+ tutorials that help you maximize the potential of Helium 10 for your business.
Table of Contents
Best Helium 10 Coupon Code and Discounts For Amazon FBA

Helium 10 – Introduction

Helium 10 in a Nutshell

Helium 10 Major Features

Helium 10 Plan Details

An Awesome Helium 10 Promo Code For You

How To Claim Your Helium 10 Coupon Code
Disclosure:  Hi! It's Vova :) Some of the links in this article may be affiliate links. I get a commission if you purchase after clicking on the link, this does not cost you more money, and many times I can even get a nice discount for you. This helps me keep the content free forever. For you. Thank you! :)