The Juiciest Jungle Scout Coupon Code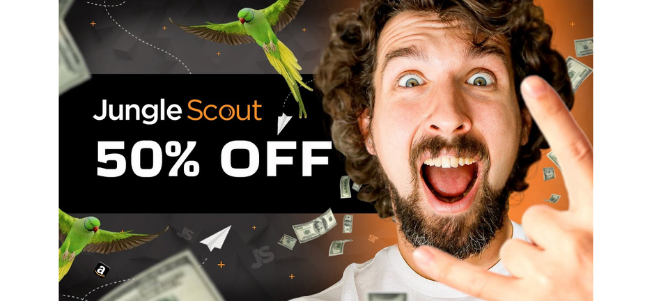 Table of Contents
Best Jungle Scout Coupon Code And Discounts For Amazon Sellers

Jungle Suite and Professional

Tools of the Trade

Spend Money to Make Money

All The Jungle Scout Promotions In One Place
Disclosure: Hi! It's Vova :) Some of the links in this article may be affiliate links. I get a commission if you purchase after clicking on the link, this does not cost you more money, and many times I can even get a nice discount for you. This helps me keep the content free forever. For you. Thank you! :) 
Best Jungle Scout Coupon Code And Discounts For Amazon Sellers
Let's look at the different Jungle Scout deals I have for you for in 2023 and beyond!
Take advantage of them, save big, and choose the right Jungle Scout coupon code and discount for yourself and your Amazon business. Let's go!

Quick intro, my name is Vova Even, it's great to meet you! I've been an Amazon seller since 2016 and I've been sharing my journey as a seller, as well as tricks of the trade on my blog here, my YouTube, and my Udemy channels. Good day to you!

If you'd rather watch a video that sums up all the Jungle Scout promotions and a video that shows you exactly what each Jungle Scout plan has to offer for you, I'll have those videos from my YouTube channel further down in this post.
First off, I have a promo code that grants you a 50% discount on your first month with Jungle Scout and its Suite plan. We'll discuss other different Jungle Scout plans soon too! :)
Below is an awesome voucher for those who are looking to check out the service and see what it has to offer.


Plus, here are some freebies and additional resources for you:

Now, you probably don't want to dive headfirst into a big commitment when you're not exactly sure what you're going to be getting.
This takes the price from $69/month to just $34 for the first month of the Suite plan. Keep in mind that it will go back up to the standard price when your plan renews.
Click here to get 50% OFF your first month on Jungle Scout. Here's a video that mentions this, and other Jungle Scout codes. For example there is a great discount for the Jungle Scout Suite plan, that's a deeper blog on this subject, and long with the discount.


Maybe you're already familiar with the service, so you know you want a bigger plan. Or maybe you just have enough faith to sign up for the long haul! Whatever the reason, there are definitely promotions to take you past one month. For Jungle Scout Suite, there are three options:
● $169 for 3 Months
● $373 for 9 Months
● $399 for 12 Months
You don't need to be a math wizard to see that the 12-month deal is a massive bargain, costing less than $20 more than the 9-month deal. Don't miss an excellent opportunity.
Click here or on the image below to get 3, 9, or 12 months of Jungle Scout Suite for up to 40% off.
Finally, with the seasonal sale that the service is having, there are four more awesome plans to choose from. If you're interested in the Jungle Scout seasonal suite, $59 a month, you can pay $149 for three months, or $449 for a full year. All three plans come with extras, too:
● Month-by-Month Seller Guide (worth $39)
● Getting Started Checklist (worth $59)
● What to Sell on Amazon Guide (worth $99!)
In addition, the 1-year plan comes with 2 'extra seats' so you can help manage your store. An extra seat means you get to give access to your account to your partners, virtual assistants, or employees without sharing the password.
Some of you will want something more serious. In that case, you can pay $999 for one full year of Jungle Scout Professional. This also comes with 2 extra seats for the new Freedom Builder Bootcamp Course by Jungle Scout (watch a video review of this Amazon FBA course here), as well as all of the guides that come with the above plans.

On top of all that, you'll also get weekly live coaching calls with their team of Amazon experts. That could potentially be worth the price all by itself!
Jungle Suite and Professional
Depending on your needs, you'll have to choose between a Suite or a Professional plan. It's all about the size of your store.

Even if you start with Suite, if things go well, you'll probably be upgrading to professional at some point in the future. I wish you great sales and growth!

If you'd like to see an in-depth comparison of the plans, side by side, in a video format, then I have this video for your where you can discover exactly what each plan has to offer you. Alternatively, you can check to see the comparison on the Jungle Scout website; Jungle Scout Pricing Page.
The video below also explains it and compares it all in a step by step manner.


With Suite, you can:
● Automate your reviews
● Add more users
● Access in-depth product and keyword data
● Access advanced seller features
The Suite starts you out with a single-user seat, the ability to track 150 products, and 200 listing grades per month.
With Professional, you can:
● Manage 6 users
● Access 6 months of data in the product tracker
● Access 2 years of keyword data
● Track 1000 ASINs
You'll also get priority onboarding and 500 listing grades per month. This is an ambitious plan to start with, but choose whatever works for you. There's nothing wrong with starting smaller and then going big once you get a handle on things. On the other hand, fortune favors the bold!
Worth the Read: Jungle Scout Suite vs Professional Plans - Detailed Review
Tools of the Trade
Regardless of which Jungle Scout discount code that you use, you get the following invaluable tools:
● 24/7 Customer Support
● Alerts
● Chrome Extension
● Inventory Manager
● Jungle Scout Academy
● Keyword Scout
● Listing Builder
● Opportunity Finder
● Product Database
● Promotions & Email Campaigns
● Rank Tracker
● Review Automation
● Sales Analytics
● Supplier Database
After reading that list of features included in the Jungle Scout subscription, can you imagine trying to launch a successful Amazon store without their help? Not only will the service save you time, but it'll save your sanity as well!
Now, in order to under how to use Jungle Scout, step by step, me and Ed from Jungle Scout created an in-depth tutorial for you! It's right here below, and it covers all the tools of Jungle Scout.
Anyhow, let's break down what the tools themselves do and how they'll help you start and manage your business.
Before you do anything, you need to learn how it all works. Even with Jungle Scout doing the heavy lifting, you still need to understand the ins and outs of selling on Amazon.

That's what the Jungle Scout Academy course is all about. It comes free with the software. It helps you with basics of Amazon selling, and it shows you how to use Jungle Scout to sell well. Just don't expect a cap and gown when you graduate!
Now, let's say you're not sure what to sell. Typically, this would be the very first step of any business venture. Some would say that learning how to set up a store without having a product in mind is putting the cart before the horse.

However, that's not exactly the case. Supply and demand are the backbones of capitalism, so all you need to do is look at what's in demand to get an idea of what to offer.
Jungle Scout can help here! The Opportunity Finder, and Chrome extension can all help you find a product worth selling. This is arguably the most difficult part of starting a business, and Jungle Scout does a large portion of the legwork for you!

As for the Jungle Scout Chrome extension (Chrome store download link) - here's a full tutorial that shows you how to use it from A to Z. Read it right here; Jungle Scout Chrome Extension Tutorial. Or watch below.
My Related Blog Post: How To Download & Install Jungle Scout Chrome Extension [Get It & Add It]
Next, you need to find a supplier. That's where the Supplier Tracker and Supplier Database come in.
It's not hard to find a supplier. The trick is finding one that offers a decent enough price to leave you with a good profit margin. This is another area where the service does a lot of the work for you.
Alright, so you know what you're selling, and you've got a supplier all lined up. The next step is to create your listing. Arguably, this step is much easier than the previous two steps.

That being said, there's a big difference between creating a listing and creating a successful listing. There are endless amounts of stores on Amazon that don't earn much if any, money at all.
The Listing Builder will help you with the nuts and bolts of getting up and running, while the Keyword Scout will make sure you pull in traffic. Keywords are vitally important in getting eyes on your product.
Here's a short video with Ed that explains how to use the Listing Builder tool.
Here comes the big step: the launch. This is what you (with the crucial help of Jungle Scout) have been working towards. It's time to launch your store and, hopefully, start raking in the big bucks.

Again, the Keyword Scout will help ensure that your copy contains all the right words. Then, email campaigns and promotions will help stir up business and send it your way. According to Jungle Scout, 64% of Amazon sellers get profitable within the first year, so you might be turning a profit before you know it!
I believe in you! For real! :)
So, you're officially an Amazon seller. There's nowhere to go from here but up (I won't think about the other direction), so that's exactly where you should go!
Worth the Read: Do You Need Jungle Scout for Amazon?
With Alerts, Sales Analytics, and the Inventory Manager, Jungle Scout will help you stay on top of your store so you can follow and respond to all the ebbs and flows of the business.
Spend Money to Make Money
One of the oldest rules of business is that you need to spend money to make money. While this is true, it doesn't mean you need to spend a lot of money. You don't want to go broke before you get the chance to turn a profit!
By using a Jungle Scout promotion, you'll get access to one of the best tools for building a successful Amazon store without breaking the bank. Sure, you could do it all on your own and save the money you would spend on a plan, but there will still be expenses along the way, and the deals won't be nearly as good.
Plus, by the time it takes you to find a product, find a seller, get the listings up, and finally turn a profit, you could've already been making money with Jungle Scout.
Also, maybe for some reason Jungle Scout is not for you, then you can read about another Jungle Scout alternative.


All The Jungle Scout Promotions In One Place

Jungle Scout 50% OFF Your First Month
Jungle Scout Seasonal Deals
Jungle Scout Yearly Deal

Good luck to you. All the best, and I'll see you in the Amazon marketplace!
Yours,
Vova :)
P.S - Here is a playlist with over 80+ useful Jungle Scout tutorials for you on my YouTube channel. Enjoy! :)
Table of Contents
Best Jungle Scout Coupon Code And Discounts For Amazon Sellers

Jungle Suite and Professional

Tools of the Trade

Spend Money to Make Money

All The Jungle Scout Promotions In One Place
Disclosure:  Hi! It's Vova :) Some of the links in this article may be affiliate links. I get a commission if you purchase after clicking on the link, this does not cost you more money, and many times I can even get a nice discount for you. This helps me keep the content free forever. For you. Thank you! :)