Jungle Scout Price And Pricing Review - Which Package Is The Best For You?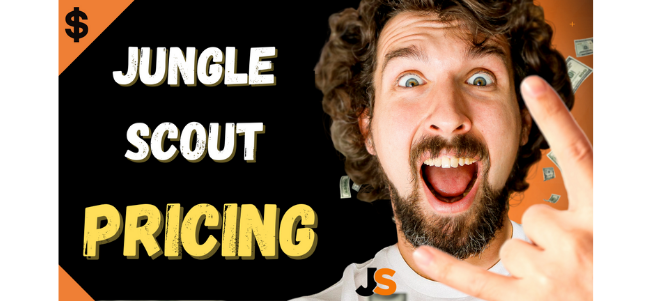 Disclosure: Hi! It's Vova :) Some of the links in this article may be affiliate links. I get a commission if you purchase after clicking on the link, this does not cost you more money, and many times I can even get a nice discount for you. This helps me keep the content free forever. For you. Thank you! :) 
Which of the Jungle Scout Subscription Levels Is Right for You?
Hi! Thank you for visiting my blog. My name is Vova Even, and I have been an active Amazon seller since 2016. I also share tutorials, hacks, and trade secrets on YouTube and Udemy. My goal is to help new, and advanced Amazon FBA sellers save more money while growing consistently.
In this article, I'll discuss the various pricing tiers offered by Jungle Scout and help you choose which one is ideal for your business.
Does that seem interesting? Get buckled in and hold on for the ride! :)
All The Resources From The Article

Freebies & Additional Resources for Amazon FBA Sellers:


A Few Words About The Amazon FBA Opportunity...

Believe it or not, people (like totally regular people) are selling all kinds of products online (mostly on Amazon), and they are making a lot of money while at it.
The Amazon FBA model has been nothing short of a blessing to many entrepreneurs out there. Amazon today is one of the biggest e-commerce platforms on the web, if not the biggest. Hence, it offers a lot of opportunities to launch and start an online store in a short period.
Amazon has the reach, money, and power to handle a lot of groundwork for entrepreneurs, and it does that to an outstanding level. It does make it easy for enthusiastic folks to jump right in and start making money selling products. Hence, the number of sellers is already in the millions and counting. With so many vendors, the race to the top dollar is incredibly fierce.
Finding a profitable product to sell online can be hard. What you're looking for is a product with high demand but with low competition, so you can make as many sales as possible. That's in a nutshell, yeah? There's much more to Amazon FBA.
Some sellers do these tasks using their brute tools and hacks. But it's an incredibly hard way to go about product research on Amazon. You need something more easy and simple to work with. You need something more professional and proven. You need dedicated Amazon FBA suites to make your life easier.
That's where tools like Jungle Scout come into the picture. Jungle Scout is a suite of tools that helps you find profitable niches and products by providing valuable data and analytics that help your product selection process.

It helps you locate opportunities and products that meet your criteria and those that are trending on Amazon. With software like Jungle Scout, you have access to all the data about your competitors and the products they sell at your fingertips.
Jungle Scout is an all-in-one platform that has many, many tools to help you promote your business on Amazon, whether you are a brand or an individual.

Jungle Scout doesn't offer a free trial but there is a 7-day risk-free guarantee that allows you to get your hands down on any of its plans. Click here to get started or if you're ready to make an investment, I'm sure that you will love my annual discount offer!
If you ask any seller on Amazon who has used the Jungle Scout tool, they'll tell you it has been a game-changer and helped them build successful stores on the platform.

Heck, I found my first product on Amazon in late 2016 with the help of Jungle Scout.

And by the way, does Jungle Scout guarantee success on Amazon? No. It's just a great suite of tools for sellers that eases the process. However, it does not guarantee success. Amazon is a business, there is nothing guaranteed in business.


But.. Since the Jungle Scout suite has turned out to be an incredibly useful tool for existing and would-be Amazon sellers, I have decided to let you know all the important things about this software and how much it will cost you to get it.
About Jungle Scout: The Company
Created in 2015 by a serial entrepreneur called Greg Mercer, Jungle Scout (headquartered in Austin, Texas) provides information and all the resources needed to help entrepreneurs and brands launch and grow their businesses successfully on Amazon.
With a tool such as Jungle Scout and a ready-made platform in Amazon FBA, that's the perfect combo for any person looking to be their own boss.
What Is Jungle Scout?
Jungle Scout is a first-tier Amazon software that helps you find profitable products to sell, estimate sales, find keywords and spy on the activities of your competition. It has a very simple, intuitive, and easy-to-use interface that you can use to perform various Amazon-related tasks.


It helps you the most with the most important thing about selling on Amazon: making a profit. What Jungle Scout does best is to instantly show you the most highly demanded products with the lowest competition to sell on Amazon.

I have a playlist of Jungle Scout tutorials available on my YouTube channel, with over 20+ videos to help you leverage the power of Jungle Scout. Watch here.
Why Jungle Scout Is Important To You As An Amazon Seller
Look, it just happened that Jungle Scout was founded just after the Amazon research dark ages when product research was a very tedious process, and most sellers skipped it.


You might be wondering if vendors actually sold any products pre-tools like Jungle Scout and others. The answer is yes, they did. But there's nothing to like about it.


Before tools like Jungle Scout, Amazon sellers had to painstakingly and manually research every single detail, including digging up promising products, analyzing metrics, and checking up on the activities of other sellers.

At the end of all that, sellers then kept a spreadsheet of whatever data they had gathered as some sort of database of information.


There are a lot of drawbacks to this process. Not only that sellers have to spend lots of hours before they can come up with any data, but the bulk of the information collected is also based on hunches. It's all just sellers following their gut feeling. There's hardly any real science behind how these sellers arrive at their information.


Jungle Scout is a way better alternative for you. It's not even a competition. For all the things you needed hours to do yourself, Jungle Scout can finish it for you in seconds. Product research is one of the most important ingredients for success on Amazon.


Nowadays, the competition is insane, even though the Amazon platform's reach is growing by the minute. Every product you choose to sell on Amazon must be vetted carefully before throwing it on the market. If you select a product without due diligence, you probably won't sell much on the platform.


Do you know that in 2021 more than 1 million new sellers joined Amazon markets? That's 1 million new competition joining the already existing millions of sellers. Honestly, most of them never start.. But still..


If you don't choose a unique product to sell, you stand little chance of making tangible sales. And if you don't leverage the power of software like Jungle Scout, be rest assured other sellers are using it or some other alternatives.
Jungle Scout Plans and Pricing Review
Here's the one you have been waiting for: how much will Jungle Scout cost you?


Thankfully, Jungle Scout offers a very flexible plan and pricing package so that anyone can get started. Depending on your preference or needs, you can choose either a monthly or yearly plan. And you can use a special discount to get up to 60% off some plans you eventually choose.

Check out the official Jungle Scout pricing page below, along with all the best coupon codes and discounts for Jungle Scout.

The Official Jungle Scout Pricing Page

Jungle Scout 50% OFF
Best Jungle Scout Seasonal Discounts
Jungle Scout Yearly Discount


Jungle Scout pricing is a little confusing to get the hang of the first time because there is the Jungle Scout Basic, Suite, and Professional. There's a chrome extension, there's a course, which one is the right one for you?

My Related Blog Posts: How To Download & Install Jungle Scout Chrome Extension [Get It & Add It]

And, of course, the price varies depending on whether you're paying through a monthly or annually-based model.
Don't worry, it's not that much confusion. I'll make sense of it all for you below. Jungle Scout pricing is just like any other tool out there, it can be simplified.


Jungle Scout is offered as a part of three plans: Basic, Suite, and Professional. I'll now give you the lowdown on all three packages, what they cost and what is included in each of them.

Also, if you prefer watching all this in video format, check out my Jungle Scout pricing video down below. Inside I compare the packages and talk about their features and cost.


Jungle Scout Basic Price and Pricing
The Jungle Scout Basic package offers the cheapest route for you to start using the software. If you're still wondering whether or not Jungle Scout is the right software for you, then you probably are still in the early stages of your Amazon FBA career, so you aren't churning out thousands of dollars yet.
Jungle Scout Basic: Monthly – $49/month ($588 for a year)
Jungle Scout Basic: Yearly – $349/year ($29 for a month)
From the above, it will cost you a decent $49 to get Jungle Scout Basic for a month. The yearly plan is essentially priced at $29 per month, which totals $349 yearly. It's advisable to opt for a yearly subscription because you save up to $240 while at it.


Generally, the basic plan is quite limited, but it helps you get a feel of what the software can do for your business.

For the price of $49/month, or $349/year, you get:

Full usage of the Jungle Scout Chrome extension, limited usage of the product research/keyword/business analytics research tools, review request tool, and profit analytics tool. You also get the basic Jungle Scout training (Academy), where you can learn how to use it.

If you need more power and more features (honestly, you'll need them), then keep reading about the next package of Jungle Scout. It offers you much more at a decent price.
Jungle Scout Suite Price and Pricing
The Jungle Scout Suite comes highly recommended and powerful. It is the most widely used plan of Jungle Scout by other Amazon sellers. The Suite plan comes with features and tools that will help you elevate your business and scale it appropriately when the time comes.

The Suite plan provides you with tools, features, and functionalities that help you manage the day-to-day tasks of your store. You also get full access to product research, keyword research, and business analytic tools in this plan.
Jungle Scout Suite: Monthly – $69/month ($828 for a year)
Jungle Scout Suite: Yearly – $589/year ($49 for a month)
The Suite plan has the best value for money. It comes with more features compared to the Basic plan.
Also, you get to save a lot if you pay using the annual payment method, which is capped at $589. You get to save a staggering $240 on monthly subscriptions.

There's a secret discount that offers 50% OFF your first month of the Suite plan. You get it for only $34. Cheaper than the Basic plan.

You can also get the Suite plan for 3 months at $149 only! Here's the special link to get this offer (there are some other cool offers inside).

And finally, you can get it for only $399 for a whole year! Yes, only $33.25 per month. Woah, get it here while it's still up.

If you are still unsure which plan is better for you, Basic or Suite, then watch my video that breaks it down for you in a step-by-step manner.


If you are a readaholic, I also have an article version of the above video. Read it here: Jungle Scout Basic vs Suite Plans Review | Which One is Worth Buying?
Jungle Scout Professional Price and Pricing
Jungle Scout Professional is pretty much the full Jungle Scout package, all-inclusive. It gives you everything on the Suite plan and the power to get more data, more users, and more access. It gives you everything you need to completely overhaul your Amazon store and scale to the moon.


The Jungle Scout Professional package is tailor-made for those Amazon sellers who need more data, those who fully understand and appreciate what a tool like Jungle Scout means for their business. It gives vendors the uncommon capability to scale up seamlessly in response to favorable market situations.

It's also great for businesses with bigger teams. You can safely add your partners to your account.
Jungle Scout Professional: Monthly – $129/month ($1548 for a year)
Jungle Scout Professional: Yearly – $999/year ($84 for a month)
The Jungle Scout professional is not cheap because it's geared towards sellers who are ready to get the most from their Amazon business. At $129 per month, that's a steep price to pay for any tool. However, it allows experienced sellers to try out the tool's most advanced features and take their business to the next level.


If you find that the added functionalities of Jungle Scout Professional will serve you real good for a long time, there's a yearly subscription that will save you up to $549 on top of the monthly plan. Which means you pay only $999 for a whole year.

But wait... Don't just invest in the Professional using the regular Jungle Scout pricing page.

Save big, and get extra goodies!

Here's how...

This less-known link grants you a whooping $350 savings on the Professional plan, it's only $649 instead of $999 via this link! Inside you'll also find a bonus package that includes the Jungle Scout professional together with the Freedom Builder Bootcamp course by Jungle Scout.

If you are still not sure if you should go with the Basic plan or the Professional plan. Then watch my video that compares them in a detailed, step-by-step manner.


Like the Jungle Scout Basic vs Suite comparison, I have an article version of this video as well. Enjoy reading it here: Jungle Scout Suite Vs Professional Plans - Detailed Review
Jungle Scout Free Trial
Unfortunately, Jungle Scout doesn't come with a free plan, unlike other software in its niche. For example, Helium 10. And that includes the Jungle Scout browser extension, which is only accessible when you purchase at least the Basic package.
Jungle Scout Discounts
Jungle Scout offers several discounts and special offer promos that enable you to get it at a subsidized price.

Jungle Scout 50% OFF
Best Jungle Scout Seasonal Discounts
Jungle Scout Yearly Discount

If you want to read an in-depth article about exactly what these discounts save you, then read my article about Jungle Scout coupon codes right here.
Jungle Scout Money Back Guarantee
If you purchase Jungle Scout and don't like what you get, you can ask for a refund. There is a 7-day money-back guarantee period within which you can ask for a full refund. No questions asked.
Jungle Scout Amazon Course - Freedom Builder Bootcamp
Jungle Scout also offers an A-Z course for those who want to start selling on Amazon (which is also good for new sellers and even professionals). You can read more about this course in my Freedom Builder Bootcamp review or watch the video below.


The Bottom Line: Is Jungle Scout Right For You?
Jungle Scout is a very helpful tool that covers the most important aspects of selling on Amazon. Product research, keyword research, business analytics, and many more.


If you're a beginner or newbie, it will help you learn the basics of selling on a platform like Amazon.


And finally, this is a tool that can truly be a difference between you and your competitors.


If it's not Jungle Scout, it has to be another like alternative, such as Helium 10. But few will measure up to what Jungle Scout has to offer.

You can read my Jungle Scout VS Helium 10 comparison right here.

All The Resources From The Article

The Official Jungle Scout Pricing Page

Jungle Scout 50% OFF
Best Jungle Scout Seasonal Discounts
Jungle Scout Yearly Discount

Freedom Builder Bootcamp Course Free Webinar
My Bonuses For The Freedom Builder Bootcamp Course
My Other Bonuses For The Freedom Builder Bootcamp Course

Jungle Scout Tutorials YouTube Playlist

Thank you for reading, and I wish you a great life!

Yours,
Vova :)
Disclosure:  Hi! It's Vova :) Some of the links in this article may be affiliate links. I get a commission if you purchase after clicking on the link, this does not cost you more money, and many times I can even get a nice discount for you. This helps me keep the content free forever. For you. Thank you! :)