Helium 10 Vs Jungle Scout Price (Read This Before You Buy!)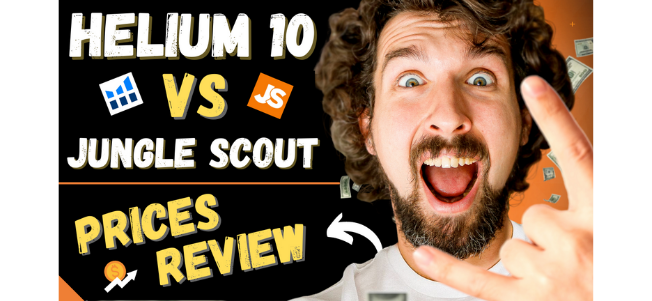 Table of Contents
Helium 10 vs Jungle Scout Price – Compared In-Depth

What is Helium 10?

What is Jungle Scout?

Helium 10 and Jungle Scout Price Comparison

Helium 10 Pricing Plan

Helium 10 Pricing Plans

Helium 10 Discounts And Coupon Codes

Helium 10 Free Account and Trial

Helium 10 Money Back Policy

Jungle Scout Pricing Plans

Jungle Scout Discounts and Special Offers

Jungle Scout Free Account and Trial

Jungle Scout Money Back Guarantee

Final Verdict: Helium 10 vs Jungle Scout Price
Disclosure: Hi! It's Vova :) Some of the links in this article may be affiliate links. I get a commission if you purchase after clicking on the link, this does not cost you more money, and many times I can even get a nice discount for you. This helps me keep the content free forever. For you. Thank you! :) 
Helium 10 vs Jungle Scout Price
–
Compared In-Depth
Helium 10 or Jungle Scout? Which Amazon FBA tool is better? In this comparison, we are focusing on a particular metric, the price. Helium 10 vs Jungle Scout price: which of these two Amazon marketing tools offer the best, cheapest, and most attractive pricing packages?
You will discover all the answers in this article. First we cover Helium 10, then we go to Jungle Scout.
I've also included the best discounts for these tools. You'll find them down in the article.
My name is Vova Even, seller on Amazon since 2016. Happy to have you here on my blog. I also have a YouTube channel and over 17+ free courses on Udemy.
Plus here are some freebies and additional resources that might help you:
Enjoy!

For a detailed video on this subject, check out the video on my YouTube channel. It's right here.


So... As an Amazon seller, are you relying on freebie tools to carry out your marketing research? In short, are you even doing any sort of product research at all?
As millions and millions of dream-chasing sellers flock to Amazon hoping to earn that iconic seven figures income, the competition to get to the upper echelon of sellers has never been more fierce. There's no easy way to financial freedom on Amazon.

Every seller is becoming smarter about selling on Amazon, smarter about finding opportunities and leads, sourcing for products, and competing to win sales.

How do you make your job easier? For starters, people make use of Google Trends. Including trying to reverse engineer demands by tracking Amazon's bestseller ratings (BSRs). All those methods are simply not the best and most elegant way of going about doing product research.

Those manual processes are not only time-consuming but not very effective. They don't give you the depth or breadth of information necessary for you to be decisive on the Amazon marketplace. To be successful as an Amazon FBA seller, you must use all the helpful tools available to you to help you maximize your business.


Thankfully, there are a few suites that you can use to grow your existing Amazon business or build one from scratch. These suites are specialized tools that can help you keep track of your inventory, find niche products to sell, or simply manage your day-to-day transactions.

And two of the very best Amazon FBA suites are Helium 10 and Jungle Scout. These two powerful tools are equipped with a set of functionalities that help Amazon sellers drive more sales.

Before we move properly into the Helium 10 pricing plans or of the Jungle Scout prices, let's introduce these two Amazon FBA suites for those who are not already familiar with them.
What is Helium 10?
Helium 10 is an amazing FBA software suite specifically designed to help Amazon sellers earn more money on the e-commerce platform.
Here is a full Helium 10 tutorial blog post of the Helium 10 tools.
The software contains a dozen of powerful tools that help Amazon marketers easily find high-ranking keywords, spot emerging trends, spy on competitors, refine lists, and full optimization of your product listing to increase sales.

With the help of the Helium 10 software suite, you can dive deeper into discovering product ideas and dive even deeper into market research to validate those ideas.
Just as the name suggests, Helium 10 is packed with more than ten different tools for Amazon sellers to maximize their productivity on the platform.

What's more? The Helium 10 prices are attractive. And some of its most powerful tools are still rolled out for free in the Helium 10 free trial version.
If you want to see what's exactly included in the Helium 10 free trial, click on the link on the left.
Furthermore, there are mouthwatering Helium 10 discounts and coupon codes users can apply to enable them to enjoy the software at incredible beat-down prices.
What is Jungle Scout?
Jungle Scout is another powerful software suite made specifically for Amazon sellers, and it is growing to become one of the most widely used product research tools on the market and much more.

One of the major draws of Jungle Scout is that it helps you find profitable products on Amazon quickly and easily. This feature of Jungle Scout is particularly beneficial to people who are looking to import products, slap their private labels on them, and resell.

Similar to the Helium 10 tutorial, I have a tutorial of Jungle Scout from A-Z! With Ed from Jungle Scout :) It's a video, and I've embedded it below for you!
Jungle Scout analyses several important metrics before recommending potentially profitable products to its users. The Amazon FBA tool considers factors like the number of reviews, top seller rank, and many others to arrive at an estimated sales value.

Jungle Scout Pricing is also attractive, with the availability of juicy Jungle Scout discounts and coupon codes, which let you use the tools at greatly reduced prices.
My Related Blog Post: The Juiciest Jungle Scout Coupon Code
Helium 10 and Jungle Scout Price Comparison
There's not a lot of difference between the Helium 10 and Jungle Scout Amazon FBA suites, but there surely is some. They both offer top-class product idea generation and market research functionalities.

The tool you eventually opt for may well come down to the issue of money and the old trusted decider that is price.

A Helium 10 vs Jungle Scout price comparison should go a long way in helping users, and potential users of this software understand how to get maximum value for their money, no matter the FBA suite they eventually decide to invest in.
Helium 10 Pricing Plan
Name

Helium 10

Price

Free - $399

Discounts (Coupon Codes)

VOVA6M20 - 60% OFF Your First Six Months

VOVA10 - 10% OFF Every Month

Free Plan (Yes)

Free-to-use forever version, with limited usage

Money-Back (Yes)

7-Day Money-Back Guarantee
Helium 10 has 5 different subscription levels or plans. The Helium 10 pricing plans page is loaded with more good information. Each of these 5 plans can be paid for either monthly or yearly. There's a benefit when you subscribe to a Helium 10 yearly plan, you get a two-month free bonus.


Of course, there's also a Helium 10 free trial. This trial allows you to use the Helium 10 software free, albeit only a basic set of functionalities are included. Get your Helium 10 free account and trial here.

A 7-day money-back guarantee is included with each paid plan.
Helium 10 Pricing Plans

Wondering what it costs to acquire a Helium 10 membership? I break down the 5 plans of Helium 10 and some of the features that come with each.

For a detailed video about the Helium 10 pricing, make sure you watch my video about the pricing packages below. A blog post is available as well; Helium 10 Pricing Plans.



Helium 10 Free Plan

This is a great choice for those who want to try out the tool. The free plan offers minimal usage of almost all the tools, but in this way, you can actually see, feel and understand the tools of Helium 10.

Here's a video that explains to you exactly what's included in the Helium 10 free account. Enjoy! A blog post is located here; Helium 10 free account. I've previously mentioned it as well.


Helium 10 Starter Price
New to Amazon FBA? The Helium 10 Starter plan is made with you in mind. At just $39/month, you get reliable and professional research power to increase your chances of finding better products to sell on Amazon. You get full usage of the Helium 10 Chrome extension, also known as the Xray.
You can learn more about the H10 extension by reading here; What is the Helium 10 Chrome extension.
My Related Blog Post: How To Download & Install Helium 10 Chrome Extension [Get & Add It For FREE]

It also comes with the Freedom Ticket course by Kevin King (valued at $997) to help you start your Amazon FBA journey.
The Freedom Ticket course is included in each paid plan of Helium 10 more info about this course can be found here; Helium 10 Freedom Ticket Landing Page.

And finally, the Profits tool, which helps you see your actual profits on Amazon. It's much better than the basic sales tool that Amazon provides you with.

You can also make a smarter investment if you subscribe for a year at $339. 2 months for free. The discount codes only apply to the annual version of this plan. VOVA10 code will make it only $324.

Helium 10 A-La-Carte
A-La-Carte is a great option for those looking to get different parts of Helium 10. So, for example, you can get ONLY the Chrome extension without any other tools. Or ONLY the strong reverse ASIN tool Cerebro for keyword research. You choose.

My Related Blog Post: Helium 10 A La Carte Plan — Is It Worth the Cost?

I still recommend getting the full plans, such as the Platinum or the Diamond, but A-La-Carte can be useful too.


The coupon code VOVA10 (10% OFF every month, forever) works for the monthly and annual A-La-Carte plans. Save big!
Helium 10 Platinum Price
Helium 10 Platinum is tailor-made for those who like what's on offer in the starter plan but are yearning for more.
The platinum plan is packed with Helium 10's more useful features like the Black Box for product research, Trendster for trends analyzing, different keyword research tools (Magnet/Cerebro), market research tools, listing optimization tools, and much more!


Helium 10 platinum price comes at $99 per month. While the annual plan for this package is $1188. By using the Annual payment, you get to save 2 months, making it only $999. But wait, there's more...

With coupon codes, VOVA6M20 and VOVA10, you save an extra month with the yearly plans or 20% OFF your first six months with VOVA6M20, and 10% OFF every month with VOVA10.

The yearly cost of the Platinum plan is $899 with any of the coupon codes mentioned.

The power of the codes! :)

Oh, and if you can't decide between the Helium 10 Starter vs Platinum, I'd recommend you to check my comparison video between the two right here below. Or the read the blog post linked above.


Helium 10 Diamond Price
If you want to up your power on Amazon FBA a notch, the Helium 10 Diamond plan is the natural successor to the platinum plan. With this plan, you're going to get everything from the platinum plan and more.
You get more features like the Adtomic tool for PPC, full usage of Helium 10 on Walmart, monthly expert training with top industry experts, and much more!

Helium 10 diamond price is $2988 per year (if you pay monthly at $249), or $2490 if you pay yearly (2 free months), which is the smarter route to take if you're already established as an Amazon FBA seller.
For those still testing the waters with Helium 10 but want precious research power, the monthly fee of $249 does make sense.

The coupon codes also help here!

If you invest in the annual plan and use any of the coupon codes below, you get Helium 10 Diamond for only $2256 per year.

If you invest in the monthly plan and use the coupon code VOVA6M20, you'll get your shiny Diamond for 6 months for only $199. By using VOVA10 you'll pay only $224 every month, and this coupon lasts forever!

By the way, Diamond or Platinum? Which one is better? This blog post fully covers this question; Helium 10 Platinum vs Diamond.
Helium 10 Elite Price
And finally, the Helium 10 Elite plan comes with pretty much the software's full package. It is packed with absolutely everything you'll ever need to get a big competitive advantage on Amazon FBA.

Like all good things, the Helium 10 Elite plan is not cheap. Coming in at $399 per month, pricey is the least I can say. However, this is rightly tailored for advanced sellers who are looking to scale rapidly. Coupon codes don't apply to this plan.

With the Elite, you get all the features of Diamond on steroids, PLUS you get access to in-person workshops with top industry experts, and a special Facebook group to mastermind with the best sellers in the world, and more...
Helium 10 Discounts And Coupon Codes
If you find the prices for the various Helium 10 plans too steep to walk, then you'll love the mouthwatering Helium 10 discounts and bonuses available for different Helium 10 plans. There are two promo coupons available for Helium 10, the monthly discount and the one-time discount for the first month.
Helium 10 First Month Discount - Promo code "VOVA6M20"
The code VOVA6M20 grants 20% OFF the first six months of Helium 10. This is a one-time coupon code that you can't apply again.
Helium 10 Monthly Discount - Promo code "VOVA10"
The code VOVA10 grants 10% OFF each month for a lifetime. Also, this code applies to almost any plan you purchase.
Helium 10 Free Account and Trial
There's a free Helium 10 account you can use with a free trial. This account is free to use forever. This is a good number of features and tools that come with the freemium account. Although, there are limitations on the use of each tool.

The Helium 10 Chrome extension can also be downloaded for free. The add-on is free and can be used as a pop-up guide while browsing the Amazon marketplace.
It helps you with analyzing markets and finding better products to sell on Amazon. I have a video tutorial of this extension on my YouTube channel right here.
Helium 10 Money Back Policy
Helium 10 has a 7 days money-back guarantee for every plan you purchase. So, if you don't like what you get from the software, you can decide to terminate your subscription, and your money will be returned to you as long as the 7-day grace period has not been exceeded.
Jungle Scout Pricing Plans
| | |
| --- | --- |
| Name | Jungle Scout |
| Price | $49- $129 |
| Discount (Coupon Codes) | 50% OFF your first month. |
| Seasonal Discounts | Discounts are available during special times of the year. |
| Yearly Discounts | Get amazing offers and save big with yearly plans. |
| Free Plan (No) | No Jungle Scout trial version. |
| Money-Back (Yes) | 7-Day Money-Back Guarantee. |
Just like Helium 10, Jungle Scout also has several Jungle Scout pricing plans that you can purchase either for a month or annually. Jungle Scout has both a web-based solution and the Jungle Scout extension. I cover the prices of both offerings below, with the best discounts.

For a detailed video of the Jungle Scout pricing page, check out my video below.


Jungle Scout Basic Price
The Jungle Scout Basic plan is rolled out with the famous browser extension. With the Jungle Scout extension, you can validate product ideas as you browse Amazon. Learn how to use the Jungle Scout extension from A to Z in my blog post.
The extension works with both Chrome and Firefox browsers.
My Related Blog Post: How To Download & Install Jungle Scout Chrome Extension [Get It & Add It]

It goes for $49/Month to get single-user access to the Jungle Scout Basic offering. While the smarter yearly payment goes for only $349, saving you up to $240.


For a step-by-step tutorial of the Chrome extension of Jungle Scout, make sure to watch my video on YouTube; here it is.


The are no special coupon codes for this plan.
If you are curious about which one is better, the Jungle Scout Basic vs Suite (our next plan), the link on the left has you covered.
Jungle Scout Suite Price
The Jungle Scout Suite package is the most widely used by Amazon FBA sellers. It gives you everything you need to find new products, find the best keywords for your products, optimize your listings, and generally manage your Amazon business successfully.

For a single monthly payment, Jungle Scout Suite is billed at $69. While a yearly purchase keeps the price capped at $49 a month. And that totals $589 annually.

Discounts are available for this plan. Yay! I'll list them all below, and let me explain what you get and how much you save.

First, you can get the Suite plan with a 50% OFF Discount for your first month. You pay only $34 instead of $69.
Click here to get the 50% OFF discount.

Second, you can get the Suite plan for 3 months for only $149 instead of $207. Click here to get the 3 months discount. There are more discounts in this link! :)
Third, you can get annual discounts by clicking on the image below. Or just tap here.
Jungle Scout Professional Price
The Professional package is very much the full jungle scout package. It includes everything in the Suite plan and more data, more users, and more access. This package is the ideal one for seasoned Amazon FBA sellers who knows exactly what they want and how to find it.

I compared it to the previous plan, the Suite, in this blog post here; Jungle Scout Suite vs Professional. It will help you decide.
The professional plan can be bought for $129 per month. It's about $1548 a year if you pay monthly. If you need such power for a long period, the wiser thing to do is to go for the yearly subscription, which costs only $999 instead of $1548.

You can get the professional plan with all sorts of different bonuses & discounts on my special discounts page. It's called the "Master Bundle", and I really recommend it if you are interested in this plan.
This bundle also features the Freedom Builder Bootcamp course by Jungle Scout and Greg Mercer.
Jungle Scout Discounts and Special Offers
There are several sweet deals available if you decide to join the Jungle Scout train. The one you can't miss is the 50% OFF the first month you subscribe to Jungle Scout's Suite package.

Jungle Scout also regularly rolls out special offers during celebrations and anniversaries. Expect such sweet deals to come around during all the seasons and holidays.

And last but not least are the Jungle Scout yearly offers and savings. You can find more about how to save REALLY BIG on the Suite plan with the yearly deals here. It comes for only $399 instead of $828. Save big.
Jungle Scout Free Account and Trial
Unlike Helium 10, Jungle Scout does not come with a free account. Even the Jungle Scout browser extension is only included when you purchase at least the Basic plan. I talk about the Jungle Scout free account in my blog here.
Jungle Scout Money Back Guarantee
Jungle Scout has a 7-day money-back guarantee. Similar to Helium 10.
Final Verdict: Helium 10 vs Jungle Scout Price
As with almost all things, it comes down to your preferences and business needs. Helium 10's features are plentiful and spread out across several packages. Jungle Scout has three plans.

Also, Helium 10 comes with a free account, while Jungle Scout does not. Helium 10's money-back guarantee is similar in time.
Generally, Helium 10 is a bit more pricy, but it does offer more tools.

Feature-wise, they are both great tools for Amazon FBA with a multitude of real-user testimony. Apart from the fact, there's a $10 difference between their basic entry-level plans, you'll get value for money on whatever platform you eventually settle for.

Good luck to you!

Yours,
Vova Even :)

P.S - If you want to make the most out of these tools, check out my Helium 10 tutorials playlist (100+ vids), and Jungle Scout tutorials playlist (80+ vids). Enjoy!
Table of Contents
Helium 10 vs Jungle Scout Price – Compared In-Depth

What is Helium 10?

What is Jungle Scout?

Helium 10 and Jungle Scout Price Comparison

Helium 10 Pricing Plan

Helium 10 Pricing Plans

Helium 10 Discounts And Coupon Codes

Helium 10 Free Account and Trial

Helium 10 Money Back Policy

Jungle Scout Pricing Plans

Jungle Scout Discounts and Special Offers

Jungle Scout Free Account and Trial

Jungle Scout Money Back Guarantee

Final Verdict: Helium 10 vs Jungle Scout Price
Disclosure:  Hi! It's Vova :) Some of the links in this article may be affiliate links. I get a commission if you purchase after clicking on the link, this does not cost you more money, and many times I can even get a nice discount for you. This helps me keep the content free forever. For you. Thank you! :)