Jungle Scout Basic vs Suite Plans Review | Which One is Worth-Buying?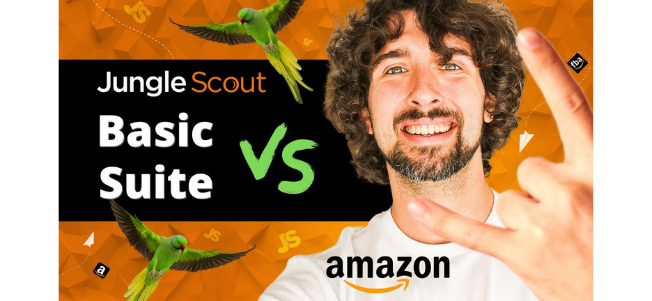 Disclosure: Hi! It's Vova :) Some of the links in this article may be affiliate links. I get a commission if you purchase after clicking on the link, this does not cost you more money, and many times I can even get a nice discount for you. This helps me keep the content free forever. For you. Thank you! :) 
Jungle Scout Basic vs Suite Plans - Detailed Review
Hi, my name is Vova Even, and I have been actively selling on Amazon since 2016. I am still in the trenches! I also share tutorials, hacks, and trade secrets on YouTube and Udemy. Here, I come with an in-depth review of my recent video: "Jungle Scout Basic vs Suite Plans."

If you simply want to watch the video that sums it all up, watch it here:


Key resources mentioned throughout this article are listed below:

Here you'll also find discounts for Jungle Scout:

Freebies & Additional Resources for Amazon FBA Sellers:

Now before we go into the depth of the two plans, I think you must know why you need one of them. Look, in today's post-COVID world, we can buy nearly "anything" online.

Don't brush aside when I say we will be able to buy "everything" online. So, if you're sitting there and thinking about upgrading your financial status, beginning an eCommerce business is "not" a bad idea at all!
eCommerce and Amazon is a Match Made in Heaven
eCommerce is a trillion-dollar industry. Global eCommerce sales are projected to reach $6.17 trillion in 2023, which is less than a year from today. Sure, there are many places to try your hands on eCommerce, but Amazon is the best place to sell anything.
According to BigCommerce, 9 out of 10 consumers check product prices on Amazon before buying. With such a level of trust on the platform, it's little surprise that Amazon has the largest reach and attention of the world's eCommerce audience.
Like me, several sellers out there are making a fortune on this marketplace by selling real goods online from the comfort of their own homes. If you're just beginning in the sector, don't forget to check my YouTube channel. There are over 300 videos to teach you exactly what to do to get going!
Now, let's get back to the subject of this post: Jungle Scout and a detailed comparison of its Basic and Suite plans.

What is Jungle Scout, and Why Do You Need It?
See, finding a good product to sell on Amazon isn't a walk in the park. There are several considerations to be made, and shortcuts simply do not work in the long run. Jungle Scout is a highly-trusted software that comes with a great set of tools to help you explore niche markets on Amazon. You can use it to find the most lucrative and low-competitive products in the least time.
Jungle Scout Pricing and Coupon Codes
There are three basic pricing plans on Jungle Scout, including
Basic
,
Suite
, and
Professional
. These pricing plans can be purchased via monthly or yearly payments. I've put the costs in the table below:
| | | |
| --- | --- | --- |
| Plan | Monthly Price | Yearly Price |
| Basic | $49 | $349 |
| Suite | $69 | $589 |
| Professional | $129 | $999 |
For a detailed comparison of ALL these plans and their features, I'd encourage you to watch my Jungle Scout Pricing Review. It's an approximately 30-minute video that will help you select the right plan for your needs.
Anyway, if you're ready to purchase a Jungle Scout subscription, you must check out this link to save 50%! Apart from that, I have exclusive seasonal discounts with a variety of incredible offers and packages, including a one-year special offer for the Freedom Builder Bootcamp Amazon FBA Course.

If you want to read more about this course by Jungle Scout, I have a detailed review of it on my website right here.

There are also yearly discounts for Jungle Scout Suite.
So, these are the general pricing details of different Jungle Scout plans with all the discounts and coupon codes. Now, let's understand why there's a price difference between the Basic and Suite plans and how they compare.

The Difference Between Jungle Scout Basic and Suite Plans
The Basic package offers a single-user license and complete access to the Jungle Scout Chrome and Firefox browser extensions. Most of its features are limited and the key highlight of this plan is the browser extension that helps you with Amazon product research and validation.

Discover how to download and install it for free in this video below:



Discover how to use the extension in this video below:


With a Suite plan, on the contrary, you get some additional offers and perks. It includes everything from the basic subscription with some other features such as review automation, the opportunity to add more users, access to more detailed historical product and keyword data, and advanced seller features.
Here's a brief rundown of the Quick Look benefits of both plans:
Money-back Guarantee
Jungle Scout provides its consumers with a seven-day money-back guarantee, which is applicable for both the Basic and Suite plans for up to seven days after the purchase date. Remember, if you are dissatisfied with it for any reason, you have the option of receiving a complete refund.
Cancel Anytime
This option is also available with both the Basic and Suite plans. If you've purchased one and later on find that you don't love it for whatever reason (or that you don't use it anymore), you have the choice to cancel your subscription at any point during or after the seven-day guarantee period. You won't have to be concerned about getting billed the following month.
Included Seats
The third option is Include Seats, which is "one" for both plans. But if you're wondering what it actually is, here's the answer: seat essentially refers to the additional users that can be added to your account. For instance, if you have a virtual assistant or a business partner who requires access to the account you use, you will need extra seats. Cut short, seats increase the number of people that can be added up to your account to utilize it alongside you.
Eligibility for Additional Seats
The next feature is Eligibility for Additional Seats. It's only accessible as part of the Suite package. The cost required for additional seats in the Suite plan is $49 per month per seat.
Now, let's take a look at the Product Research comparison between Basic and Suite plans.
Browser Extension
The Browser Extension is available for both Basic and Suite plans. But, as I mentioned, this extension is the strongest value proposition of the Basic plan. It is compatible with both Chrome and Firefox and provides a variety of options, including product research, product validation, and more.
Opportunity Score
The Opportunity Score is available for both Basic and Suite plans. It provides a rapid snapshot of a product's profitability and competitive potential in the marketplace. You can use it to examine the potential and competitiveness of different products based on the data Jungle Scout gathered for each of them. It does help to see the Opportunity Score before buying or investing in any product, but there are many other important things to consider besides this.
Review Downloader
The Review Downloader is also available for Basic and Suite plans. It allows you to download up to 5,000 reviews per ASIN. The best benefit of this feature comes with product research as it conspicuously clarifies all doubts about the products.
You can sift through the reviews to grasp all the positive and negative aspects of any product before investing in it. The Review Downloader is also good for product development since it allows you, as a seller, to fix any flaws in a product and make it better for the consumer beforehand.
Product Tracker
The next thing on the list is the Product Tracker, which is helpful in tracking various products. In case you're comparing and tracking different products, this feature can be an essential asset.
Jungle Scout allows Basic plan users to track up to 20 products, while the Suite plan users may track up to 150. To be honest, 20 products is not a small number for a newbie who is just getting started with product research. In contrast, 150 products are more than sufficient for both a beginner as well as an advanced seller.
Amazon Sales Estimator
Another great option provided by Jungle Scout, Amazon Sales Estimator, is intended to help you assess the number of sales a product makes per day. You may use it to determine whether a particular niche is a suitable fit for you or not.

The Basic plan provides 500 estimates per month, whilst the Suite plan provides 1000. However, generally, 500 estimates are more than enough.

If you want to see Amazon Sales Estimator in action, you may check out my video review below, where I also compare it to an alternative tool called AMZScout.



Opportunity Finder
This is where the graph of the Basic plan begins to sag somewhat lower than the Suite plan. Opportunity Finder is a cardinal product research tool that allows you to land some of the most desired items yet to reach a mainstream marketplace.
The Basic plan limits you to three searches per day, which, in my opinion, is insufficient. In comparison, with the Suite plan, you may do as many searches as you want. That's why the graph for the Basic plan begins to decline here.
Product Database
The Product Database is the next tool Jungle Scout provides you for better product research. If you seek to go in-depth about a product, this is your tool to go. It also has a similar case to the Opportunity Finder, where there are only three searches per day in the Basic plan and no search restriction in the Suite plan.
Keyword Scout
Next on the list is Keyword Scout, a critical tool when it comes to finding keywords for your products. As a seller, you must be aware of the value of keywords in generating sales. Just imagine selling kitchen scissors as thread scissors. It would be a mess, no?
So, if you're undertaking keyword research and want to rank well on all the relevant keywords for your product, Keyword Scout is your go-to tool. In this case, too, the Basic plan only allows for three searches per day, which is insufficient for thorough keyword research, but the Suite plan allows for an unlimited number of searches.
Supplier Database
The Supplier Database finds and verifies suppliers for you to source your products. With this feature, Jungle Scout specifically offers a unique value proposition. Unlike Alibaba and other similar websites that just allow you to find suppliers, the Supplier Database allows you to view the suppliers of your competitors as well as get an advantage over them.
In other words, if you see a good high-quality competitor, you can actually talk to their suppliers and get the same quality products or even higher quality. Once again, the Basic plan provides three searches per day, whereas you can search as many times as you want on the Suite plan.
Psst... Sale on Jungle Scouts for the season! Here's your chance to save up to 82% on your purchase—just click the picture below!
Now let's move on to the next section Industry-leading Data and take a look around to see what we've got!
AccuSales™ Estimates
When checking the Amazon sales estimate, the algorithm helps get the most accurate number. It works for both the Basic plan and the Suite plans.
Historical Product Tracking Data
This is another estimating tool that allows you to view the performance statistics of a product over an extended period of time. It often contains data regarding the overall performance of different products on Amazon.
The Basic plan provides access to one month worth of historical data, whereas the Suite package provides access to three months' worth of data. So, if you have product performance data that spans more than a month, the Suite plan will allow you to make smarter decisions.
Historical Keyword Data
This tool helps you determine how many times a product is searched by consumers and how many times its name is used as a keyword on Amazon. The keyword history is critical since it will serve as the base of your product sourcing on Amazon.
So, if you have a long-range keyword history of products, your estimations will be more dependable and valid with this tool. In this case, the historical keyword data is only available for one month under the Basic subscription. On the contrary, it is available for a whole year with the Suite plan in Jungle Scout, which, in my opinion, is better.
For example, with the yearly data, you can see all the holidays, including Christmas, Mother's Day, Father's Day, etc., to determine how your product performs over time and if this is the right time to invest in it or not. With the Basic plan, you'll just be able to view last month's data, which is insufficient.
Marketplaces
Both the basic plan and the Suite plan have access to 10 global marketplaces. The number of markets is expected to grow with time.
Favor annual savings? Click on the image below and grab the deal of your choice.
Now, let's take a look at the Advanced Seller Features and see what they can do for us.
Manual Review Requests
Through Manual Review Requests, you can quickly and easily go through a large number of requests with a single click. This is a nice edition of Jungle Scout and is available for both Basic and Suite plans.
Review Automation
This feature is generally used to maximize product reviews and increase sales with automated review requests. The Basic plan does not provide review automation, but the Suite plan does. So you can automate the process. This helps quite a lot when the whole process of reviews is automated, it saves you time and errors.
Rank Tracker
Rank Tracker allows you to monitor the keyword rank history for several keywords at the same time. This is critical for the success of your keywords. To put it another way, if you have a newly launched product and you want to see how your keywords are performing, this feature will take care of everything for you. The Basic plan does not support Rank Tracker, but the Suite plan includes 3500 keywords, which is more than enough.
Sales Analytics
This feature helps you track all your expenses as well as your Amazon sales data. This is a very good feature available for both plans. It allows you to see your profit and loss on a much deeper level than you would do on Amazon.
Listing Grader
Listing Grader helps in testing listing quality and gaining optimization insights. So, Jungle Scout takes a specific Amazon listing, whether it's your own or someone else's, and then assigns you a score based on that listing. Is it good or not? What can be improved, and how can it be done? These queries can be dealt with after you have been assigned a grade by Jungle Scout. A total of 100 users are allowed on the Basic plan, whereas a total of 200 users are permitted on the Suite plan.
Listing Builder
Listing Builder helps you build data-driven listings with a proven keyword strategy. It makes building listings so easy compared to building listings on Excel or any other software. This feature is not available for the Basic plan.
Inventory Manager
This feature helps you keep a proper full-fledged record of the inventory, as well as determine how much stock to order and when to do so. So, you can keep track of how much stuff you currently have in stock.
For example, assume that you have 100 products in stock and sell three products a day, which means you have an inventory for 33 days. And if it takes ten days to create the listing and two days to ship it to Amazon, then you still have the time remaining to complete the cycle in 12 days. But if it takes 30 days to create the listing, an extra 30 to send it, that will cause problems. Inventory Manager is designed to keep such problems at bay. However, only the Suite plan supports it.
Alerts
Alerts allow you to customize notifications for product changes like price, hijacks, and buy box ownership. Let's say if a prospect enters your listing and ultimately the price of the product changes — don't wonder, glitches happen — this feature will immediately notify you. Here's another example: if you have 20 products and on the 14th product, the price changes from $18 to $40, and you're wondering what happened and why Alerts will inform you of the change. Again, this feature is not available for the Basic plan.
Promotions
As its name suggests, Promotion is yet another incredibly significant feature that will help you advertise your launch and increase sales with coupons and offers. You can only use it with the Suite plan.
Supplier Tracker
Supplier Tracker feature manages supplier communications, compares quotes, and generates purchase orders. It is a very salient feature by Jungle Scout for Amazon that provides a list of suppliers for different products, so you can compare them and make the best decisions. This feature is not available for the Basic plan, but you can use it with the Suite plan.
Up next, there's the Support and Training section. Below are the features that this section includes:
Academy Trainer
Academy Trainer helps you learn or sell on Amazon through unique step-by-step instructions from Amazon experts. You'll get tutorials to learn everything you need to know about selling on Amazon. It is supported by both the Basic and Suite plans.
Customer Support
This tool, as its name indicates, provides consumers with the professional support and guidance they seek at any time, day or night, around the clock. The Customer Support feature is also available in both Basic and Suite plans.
Priority Onboarding
With Priority Onboarding, you'll get faster access to Jungle Scout, as well as special onboarding training. A Jungle Scout team member will come on the phone with you to demonstrate special onboarding features and answer any questions you may have to assist them in answering your inquiries and resolving any difficulties you may be experiencing. This offer is neither available in the Basic plan nor the Suite plan.
Conclusion: Which Jungle Scout Plan is Worth Buying For You?
Jungle Scout is a fantastic tool that comes with several incredible features, one of which is a seven-day money-back guarantee. Basic, in my opinion, is good for those wanting to get their hands down on the Jungle Scout for the first time and mainly focus on product research.

The Suite plan, on the contrary, is more for those who want to get more from Jungle Scout itself but also get better results with their Amazon business. It simply offers much more valuable stuff.
The discounts and incentives I've shared in this review are rather significant, and one of them can save you up to 50% off your first month on the Suite plan.

Here they are:

Jungle Scout 50% OFF discount
Jungle Scout Seasonal discounts
Jungle Scout Yearly discounts


Another great feature is the Packages option.

To access it click here to get the pricing page, and then click on "packages", which is geared to the needs of businesses at various phases of development.

Starting with the Start-up Suite, which costs $189 for three months and provides you with tailored access as well as multiple bonuses throughout this time.


Next is the Entrepreneur Suite, which costs $349 and is valid for six months. I'd suggest you go through these packages to better understand and realize how affordable Jungle Scout is.

The last package is the Freedom Builder Bootcamp package, with a course that spans over 30 hours and is regularly updated by the team. I, too, have attended this course by Greg Mercer. The price is $999. Greg is an eight-figure Amazon seller, and I can attest to the fact that it will be really beneficial to you. In addition, live Q&A sessions are held once a week where you may speak with experts who will guide you through every step of the way.

Watch my review of the Freedom Builder Bootcamp below:



Besides this, I have an entire playlist of Jungle Scout tutorials available on my YouTube channel. There are over 40 videos to help you harness the potential of Jungle Scout to its fullest. Watch it here.
Thank you for taking the time to read this, and I wish you a wonderful life!
Yours,
Vova :)
Disclosure:  Hi! It's Vova :) Some of the links in this article may be affiliate links. I get a commission if you purchase after clicking on the link, this does not cost you more money, and many times I can even get a nice discount for you. This helps me keep the content free forever. For you. Thank you! :)