Helium 10 vs AMZScout: Price and Pricing Review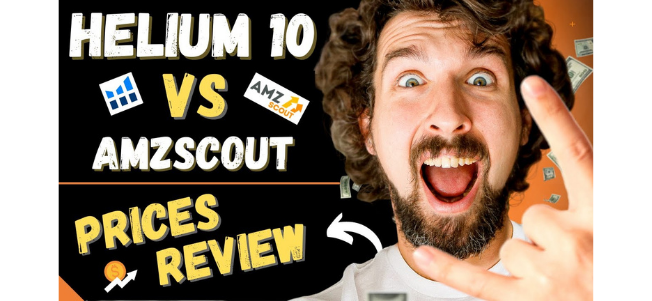 Disclosure: Hi! It's Vova :) Some of the links in this article may be affiliate links. I get a commission if you purchase after clicking on the link, this does not cost you more money, and many times I can even get a nice discount for you. This helps me keep the content free forever. For you. Thank you! :) 
Before We Begin With The Prices Review, Here Are The Resources From The Article
For Helium 10
For AMZScout
Some Freebies & Additional Resources for Amazon FBA Sellers

And here's a video from my YouTube channel that concludes this article, if you prefer video format:



So... let's start with some facts!
Amazon is one of the most vibrant and brightest marketplaces in the world. According to statistics, Amazon is trusted and tested by a whopping 89 percent of online shoppers. This is a staggering pool of potential customers to work with if you are a seller on the platform.

The chances that you will win loyal customers by selling on Amazon are high.

Interestingly, just as honey attracts butterflies, there are approximately 1.9 million active sellers already on Amazon. As you would expect, hundreds of thousands of new sellers join the marketplace every year.
So, what am I driving at?
At Amazon, the market pool is broad and diverse. There is a broad audience waiting to buy whatever it is that you decide to sell. However, as you can also deduce from the figures above, the competition is fierce. Very fierce.
To succeed as a seller on Amazon, you are going to need a lot of help. This help could come in several forms, but most specifically, you are going to need Amazon seller's courses and Amazon seller tools.
These Amazon FBA tools are needed to help you automate mundane tasks so you can focus on more serious areas of your business that will help you rise above your competition. And these Amazon FBA tools help you most in those other areas as well.
These tools help you conduct proper product research so you make smart choices about the products to sell right from the start.
Furthermore, these tools help you spy on your competitors and see what exactly they are doing. You can also gather valuable market intelligence that will help you make informed decisions about your business, and much more!
Thankfully, several Amazon seller tools help you do all of the activities mentioned above and more. And two of the very best of them are AMZScout and Helium 10.
But before we compare these Amazon FBA tools from a pricing angle, let's get a good overview of what these Amazon sellers' tools are about.

What is Helium 10 and Who Needs It?
Helium 10 is an amazing, all-in-one Amazon seller suite that provides you with all the tools you need to start your Amazon seller business as a new seller or scale it up if you are already an existing seller.
Helium 10 was created in 2015 by Guillermo Puyol and Manny Coats – who is an Amazon seller himself. Helium 10 is a web-based platform that helps Amazon sellers improve their business operations in no small measure.
Described as a suite with "Insanely Powerful Tools For Amazon Sellers," Helium 10 packs 25+ incredible tools on its integrated web-based platform. It is used by more than 250K sellers worldwide and has been involved in tracking more than 450 million Amazon products.
These numbers have seen it generate more than 1.5 billion dollars for its users in monthly sales!
Many Helium 10 tools are ultimately geared to help sellers excel in these five core categories: Keyword Research, Product Listing, Product Launching, Listing Optimization, and overall Business Maintenance.
Sellers can access Helium 10 through its web portal or via the browser extension.
Worth the Read: Helium 10 Free Account and Trial (How to Get Free Access & What It Gives You)
What is AMZScout and Who Needs It?
AMZScout is an Amazon product research tool that helps you find the most profitable products for your e-store. The platform was founded in 2016 by Alexander Volkov. It was created to help new and existing sellers launch their Amazon careers, increase their income and maintain profitability.
AMZScout is all about scouting hot products to sell while gathering valuable market insights concerning your niche and competitors. It also has decent features for finding the best keywords for your products.
What makes AMZScout unique is that, despite it being packed with impressive features, it is very user-friendly and has a favorable learning curve. Hence, both new and existing sellers, even those who may not be very tech-savvy, can become productive with the tool within a short period.
Included inside the AMZScout platform are useful tools such as Product Database, Keyword Tracker, and Keyword Explorer, to name a few.
AMZScout users can access the tool through its web-based platform. In addition to that, there's also a Google Chrome extension that, once installed, allows users to work directly from their browsers.
Worth the Read: How To Download, Install, and Use AMZScout Pro Chrome Extension [Get & Add It For FREE]
Of course, AMZScout is used by thousands of e-commerce sellers worldwide. And some of the bigger named fans of AMZScout include Dell, Disney, and RedBull.
Helium 10 vs AMZScout Price Comparison
Because there are many options you can select from when deciding on a tool for Amazon FBA, both new and existing sellers may find it difficult to know which tool represents the best option for them.

Since Helium 10 and AMZScout are generally great tools in their own right, one key area where we may be able to separate them is in the pricing plan available.

So, I bring you everything you need to know as far as Helium 10 vs AMZScout price is concerned. All the information regarding price and pricing that you need to make a decision is here. I also share some amazing discounts and coupon codes you can apply to get each of these software on mouthwatering bargains.
Helium 10 Pricing Plan
Name

Helium 10

Price Range

$39- $399

Discount (Coupon Codes)

20% OFF Your First Six Month - VOVA6M20 coupon code

10% OFF Every Month - VOVA10 coupon code

Free Plan (Yes)

Money-Back (Yes)

30-Day Money-Back Guarantee
Helium 10 has 5 different subscription levels or plans, including the Starter, Platinum, Diamond, Elite, and Enterprise. You can subscribe to each of these plans either monthly or yearly. There's a benefit when you subscribe to a Helium 10 yearly plan: you get a two-month free bonus.




If you add one of the discount codes (VOVA6M20, VOVA10) to your annual plan, you'll get another 1 free month! You effectively get 3 months free.

You can read more about the Helium 10 coupon codes in my blog post here.

Of course, there's a Helium 10 free trial. The Helium 10 free trial allows you to use some of the features of the Helium 10 for free. However, you won't do very much with it because only a basic set of functionalities are included.
How Do the Helium 10 Pricing Plans Stack Up Against Each Other?
As I have said, there are several plans available for Helium 10, and each plan can either be paid for monthly or annually. Below is the breakdown of Helium 10 pricing plans, including how you can pay less with each of them using the special discount codes available for Helium 10.

Interested in hearing and watching Helium 10 pricing plans in a video format? I've got you covered :)


Helium 10 Starter Plan Price
As the name implies, the Helium 10 Starter plan may represent the perfect option if you are new to Amazon FBA. It allows you to try out the package without paying too much at the beginning.

Starting at just $39/month, you get access to reliable and professional research tools that are part of the Helium 10 suite to increase your chances of making sales. Such as the Helium 10 Chrome Extension.

Watch my full video review of the Helium 10 Chrome Extension below.



There's also an article version of this video available. If you prefer reading to watching videos, I suggest you read how to download and install Helium 10 Chrome Extension for free here.

Besides this, when you purchase this Starter plan, you get access to free training materials (worth $997) to help you maximize the benefits of Helium 10. It's the Freedom Ticket course by Kevin King. Read more about this course in my Freedom Ticket Course Review blog post.

Or just watch my review of Freedom Ticket :)



Finally, you get the Profits tool by Helium 10 with this plan. It helps you analyze your profits and losses on Amazon on a deeper level.

While you can make a one-off monthly subscription to the Starter plan, you'd make a smarter investment if you subscribed for a year at $339. Two months are free with the annual plan. Coupon codes don't work with this plan.
Helium 10 Platinum Plan Price
Helium 10 Platinum is perfect for those who like what they get in the starter plan but are yearning for more. The Platinum plan is packed with some of Helium 10's more useful features like the black box product research, the trends finder, keyword research tools like Magnet & Cerebro, the Market Tracker, and much more!

Interesting Read: Helium 10 Starter Vs Platinum Plan - Compared in Depth
Helium 10 Platinum price comes at $99 per month. While the annual plan for this plan is capped at $999, saving you a princely $189 if you subscribe with the annual payment option.


In addition to the yearly discounts available with code VOVA10 and VOVA6M20. In that case, Helium 10 Platinum is only $899 for you!

Platinum also gives you limited usage of the Helium 10 tools on Walmart. Here's a Detailed Review of Helium 10 Tools For Walmart. I'm sure you would love reading it. :)
Helium 10 Diamond Plan Price
For those who want to up their selling power on Amazon FBA a notch, the diamond plan is the natural successor to the platinum plan. The Diamond plan may represent a tempting option for sellers who are at home with the Amazon FBA business model.

Again, with the Diamond plan, you're going to get everything included in the Platinum plan and even more. Some of the extra tools available with the diamond package include the Adtomic PPC tool, multi-user login, weekly coaching sessions with Helium 10 experts, full usage of Helium 10 on Walmart, and much more data!
Interesting Read: Helium 10 Platinum vs Diamond Plan: What's Best for You?


Helium 10 Diamond price is $1999 per year, which I believe gives you the best overall value for your money, especially if you're already established as an Amazon FBA seller and going to be needing these features moving forward.

If you are still figuring out how to make Helium 10 benefit your business, a one-time monthly fee of $199 does look tempting. And it will make even better sense if you subscribe with the VOVA6M20 promo code so that you get 20% off for a staggering six months. VOVA10 saves you 10% each month!

If you invest in Diamond yearly (with my discounts), it ends up costing only $1799 (instead of $2388).
Helium 10 Enterprise Plan Price
Perhaps, not for the regular Amazon seller. The Helium 10 Enterprise plan is geared towards large businesses and corporations.

The Enterprise packages enable big players to table their custom needs to get custom solutions to their problems. As you would expect, there's no price point listed for these packages, and the coupons are not valid here either.

Anyhow, if you are a big player, let them know you came from Vova's blog, and the guys will be glad to give you a better pricing solution. Thanks!
Helium 10 Elite Plan Price
And finally, the Helium 10 Elite plan. This is generally everything the Helium 10 software is about. It is packed with absolutely everything you'll ever need to make a higher income on Amazon FBA.

Like all good things, the Helium 10 Elite plan is not the cheapest, to say the least. Coming in at $399 per month, pricey is the least I can say. However, if you are an advanced seller, the Elite plan is made specifically so that you can be able to scale your business rapidly.

Elite grants you all the goodies of the previous plan PLUS more data, more seats for team members, in-person workshops with top Amazon sellers, and a private Facebook group with sharks (not real sharks, just Amazon seller sharks).


Here you can only invest each month. Coupon codes don't help. Great if you can afford it.
Helium 10 A La Carte Price
You might have been wondering: don't we get to choose which features we want and pay for them only? Helium 10 hears you with the A La Carte plan.


The A La Carte plan lets you choose only the Helium 10 tools or features that you need and pay for them. It includes everything on the free plan plus specific parts of Helium 10 that you select.
Worth the Read: Helium 10 A La Carte Plan Review – Read Before Buying


The promotion code VOVA10 works with the A La Carte plan as well.
The Best Helium 10 Discount Codes (You Won't Find Anywhere Else!)
The price and pricing for Helium 10 are not the cheapest, I must admit. And depending on what stage you presently are in your Amazon FBA career, coming up with the cash to pay up for some of these plans may prove difficult.


Thankfully, to avert the dangers of you completely missing out on the benefits of a tool like Helium 10, there are very attractive coupon codes available that let you access the software at discounted prices.

These discounts are the VOVA6M20 and VOVA10, which are the monthly and yearly discounts, respectively.

Learn more about the best Helium 10 discounts here: Helium 10 discounts <---
Helium 10 First Month Discount - Promo code "VOVA6M20."
The code VOVA6M20 grants 20% OFF the first six months of Helium 10 for the specific package you are buying. This is a one-time coupon code that you can't apply again.
The discount is available for the Platinum, Diamond, and A La Carte plans. You may want to use this code if you're not going to be using Helium 10 for an extended period. You can just use VOVA6M20 to save big one time only.


Helium 10 Lifetime Monthly Discount - Promo code "VOVA10."
The code VOVA10 grants 10% OFF each month for a lifetime or recurring. Also, this code applies to any plan you purchase. Visit this page to know more about how you can easily apply and enjoy this discount.
These coupon codes make a lot of sense for sellers who see Amazon FBA as their career and would like to remain on the platform for a long time. Because then, you get to save every single month that you use the Helium 10 package.

Helium 10 Free Trial and Account
There's a free Helium 10 account with a trial you can download for free usage. This Helium 10 free account can be used forever. There is a good number of features and tools that come with the free account.

Although, there are limitations to the use of these tools, and the most useful features are not included in the free Helium 10 account.

The Helium 10 Chrome extension can also be downloaded free of charge. Get it here. The add-on is free and can be used as an automatic pop-up guide while browsing the Amazon marketplace.

For more info about what's included in the free Helium 10 account, watch my video below.


Helium 10 Money Back Policy
If you fear you may not like what you get, don't worry! Helium 10 has a 30 days money-back guarantee for every plan you purchase.
So, you can decide to terminate your subscription, and your money will be returned to you as long as the 30-day grace period has not been exceeded. No questions asked.


AMZScout Pricing Plan
Unlike Helium 10, which has more flexible pricing packages, AMZScout only has two packages for you: one is for the Chrome extension, called the PRO Extension Plan, and the other is the Amazon Seller's Bundle.

We'll now look at each of these AMZScout offerings in detail. If you want to see the full pricing page of AMZScout, then you'll find it right here (just scroll down and find the "pricing plans" area once you are there).
AMZScout PRO Extension
The Amazon PRO Extension is a powerful tool that helps you find the best and most profitable products to sell on Amazon. It is quite simple to use and provides you with lots of data to help drive your Amazon store.

You can use it for free! Download it right here. If you want a step-by-step guide on it, click here.

Also, here's a full A-Z video tutorial of the Chrome extension for you!


As for the pricing of the AMZScout PRO Extension, you are billed $44.99 per month if you are making a one-time payment.

While if you opt for a yearly plan, you are effectively charged $14.99 each month as the yearly bill is capped at $179.

You get to save massively when you subscribe for the AMZScout PRO Extension via the yearly billing option.

I honestly think that this is not the best plan because, with the next tier, you get many more tools, and the price won't change much. Although if you only need the extension and some other basic tools of AMZScout (with limited usage), as well as their Amazon course for beginners, that's a good plan for you!
AMZScout Amazon Sellers Bundle
The Amazon seller's plan is AMZScout's most comprehensive offering. The bundle includes the AMZScout Seller's Course and the PRO Extension itself. Among the other tools included in the bundle are keyword research tools, product research tools, and all the extra Chrome extensions that AMZScout has.

If you are looking to harness the full power of AMZScout for Amazon business, look no further than the Amazon Sellers Bundle.

When you opt for this package, you are billed $49.99 for each monthly subscription. While the amount maxed out at $29.16 per month for annual payments, with a single investment of $349.99.
AMZScout Lifetime Access
AMZScout offers what no other platform pretty much offers, which is the lifetime payment option. What this means is that you can make a one-time payment and have access to the particular AMZScout packages of your choosing.

The PRO Extension goes for $499 per lifetime.
The Sellers Bundle goes for a $1499 lifetime.


Regardless of your plan, you will have a 10-day money-back guarantee if you are not satisfied with the purchase. No questions asked.
AMZScout Discount Codes
There's an AMZScout discount that saves you $10 when you subscribe to the yearly plan of Amazon Seller's Bundle.

If you'd rather pay the complete fee for the Amazon Seller's Bundle, you get the option of getting a bonus checklist of advice on how to deal with your suppliers in China.
AMZScout Free Trial and Account
Yes, it's available. And no, you don't need your credit card details to access the short trial period. And yes, there's a link in case you could not find it. To get it, click here.
Other AMZScout Chrome Extensions
There is another Chrome extension by AMZScout, such as the Stock Stats (it helps you track the stock of your competition), the FBA Fees Calculator (it helps you calculate your margins on a deeper level), or the Quick View (it helps you see more data on Amazon search pages, great for product research and validation).


AMZScout Money Back Policy
There is a 10-day money-back guarantee that applies to all subscription plans for both the PRO extension and the Amazon Seller's Bundle.
The Verdict...
Look! Helium 10 has way more tools, really. It has a bigger course in its arsenal. It has live coaching with some plans. It has more. But... It is more pricy.

If you only need specific parts that AMZScout has for your business, then AMZScout is well worth its price. Also, it has lifetime investment offers, which can help you save money in the long run.

So... Which one do you choose? I'll share all the links from the post down here for you as well. Good luck!

For Helium 10
For AMZScout
I wish you a happy life and truly all the best!

Yours,
Vova :)
Disclosure:  Hi! It's Vova :) Some of the links in this article may be affiliate links. I get a commission if you purchase after clicking on the link, this does not cost you more money, and many times I can even get a nice discount for you. This helps me keep the content free forever. For you. Thank you! :)